Betterment Reviews
Summary
Betterment builds you a customized and efficient portfolio comprised of widely diversified, low cost ETFs. It's easy to use, even if you're new to investing, but it also has a robust feature set to satisfy more advanced investors. If you don't want to manage your own portfolio for automatic rebalance or hire a financial advisor, Betterment is tough to beat for the very low price especially for smaller accounts.
If you sign up through InvestmentZen, you'll get a free month when you make an initial deposit of $10,000 or more.
Quick Facts
Assets Under Management
$5.8 Billion
Fee Structure
| Annual Fee | Account Value |
| --- | --- |
| 0.35% 0 | $0 - $10,000 |
| 0.25% | $10,000 - $100,000 |
| 0.15% | $100,000+ |
0 With $100/month minimum autodeposit or $3/month without autodeposit
Features
| | |
| --- | --- |
| Single Stock Diversification | |
| Direct Indexing | |
| Tax Loss Harvesting | |
| Fractional Shares | |
| Human Advisors | |
Supported Account Types
| | |
| --- | --- |
| Taxable Accounts | |
| 401k Plans | |
| IRA Accounts | |
| Roth IRA Accounts | |
| SEP IRA Accounts | |
| Trust Accounts | |
| 529 Plan Accounts | |
Expert Walkthrough
Betterment is an automatic investment firm that boasts some of the lowest fees in the industry (including your 1st month free when you sign up through this link) and makes life easier by giving you the ability to automatically rebalance your portfolio without exorbitant payments to financial advisors, yet also more control than a target retirement fund like Vanguard which makes all the decisions for you.
What is Betterment?
Betterment is a service known as a robo advisor. In other words, it's an automated investing service. You tell them what your goals are, how much money you make, and how old you are.
Once they have this information they create a strategy that works for you and invest your money accordingly. For example, if you're early on in your career, most of your money will be held in growth oriented stocks with a small percentage in bonds, and as you mature, your assets will slowly shift to more stable stocks and a greater percentage in bonds to help reduce volatility.
They also give you and savings plans and goals so you know how much money you should be investing each month.
Betterment Is Easy To Use
Getting started is easy and flexible; you can open a standard account or a tax advantaged account such as an IRA or Roth IRA, and you're able to move funds from an existing account to Betterment in less than a month. All you have to do is fill out a form online to authorize the funds transfer.
They provide an intuitive interface to set up automatic deposits, a customized investment strategy based on your unique financial situation and preferences, along with the ability to automatically invest extra funds from your checking account within minutes.
You can begin the sign up process here to see for yourself. It's very quick and painless, even (especially!) if it's your first time doing any kind of investing.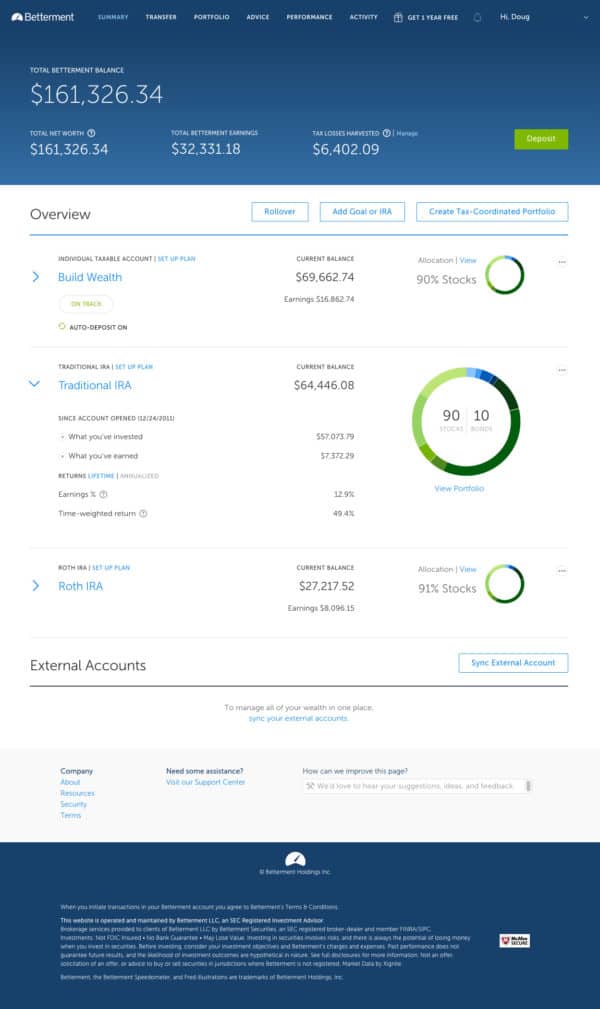 This image is illustrative only and may not be a current representation or fully representative of an actual client experience.
Betterment Gives You Access To Services Young Investors May Not Be Able To Get
One of the reasons it's so hard for young people to invest is because few people want to take us on as a client. You know how the saying goes - "you need money to make money".
One of the great things about Betterment is that you get access to services that would have otherwise been impossible for young or beginning investors to get their hands on. For example, the custom asset allocation functionality that Betterment offers was traditionally only provided by financial advisors who would charge you a hefty fee.
Betterment also helps you figure out and reduce your taxes through a feature called Tax Loss Harvesting. This is a practice where investors sell off a security that has experienced a loss in order to get a tax write-off, which can make a significant difference in your investment returns. Of course, this was also once just the domain of the filthy rich, but now all Betterment users have access to it automatically!
Betterment Has No Minimum Deposit
Like many people in the personal finance space, you're probably a fan of Vanguard funds for their profitability and low fees.
But you may have encountered a problem where it wasn't always easy to meet the minimum deposits required to invest in some of the funds you want, which means that the end result was oftentimes that you'd have a portion of your money sitting in a money market fund instead of your desired ETF.
With Betterment you're able to deposit into any sort of ETF or fund with whatever money you have available. You don't need to have $3,000 to $5,000 up front in order to invest in what you want. If all you have in a given month is an extra $20, you can still throw it into your Roth IRA without an issue. Plus, Betterment and Vanguard share a similar philosophy and investment strategy, so you know you'll still get many of the same benefits.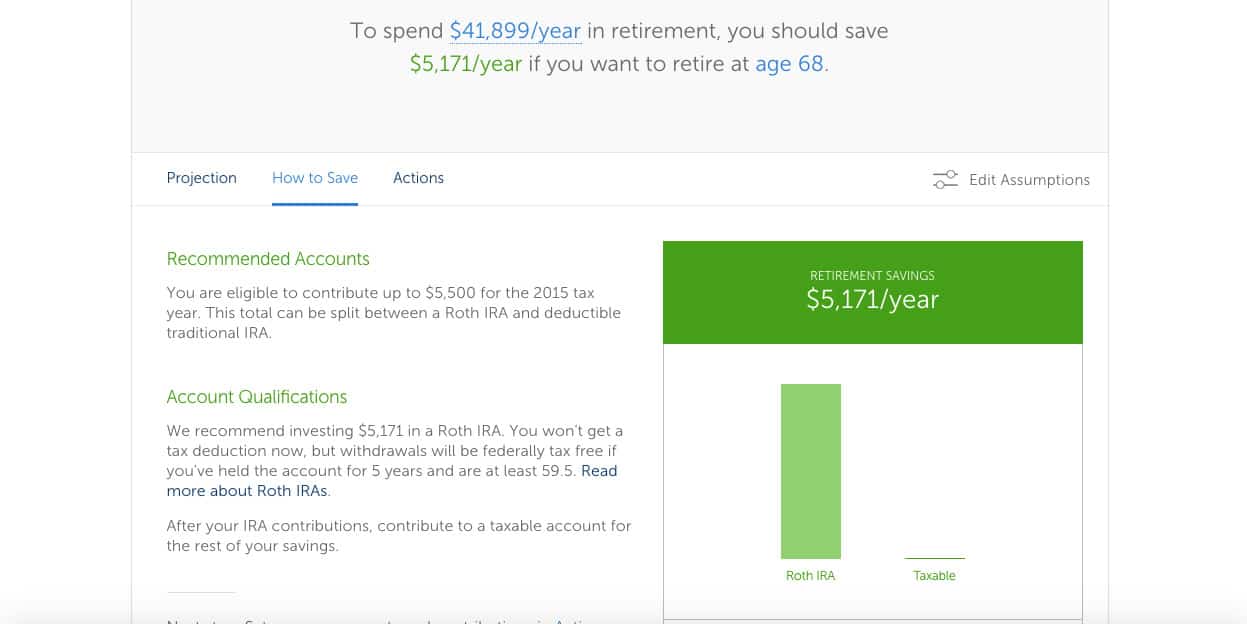 This image is illustrative only and may not be a current representation or fully representative of an actual client experience.
Betterment Fees Are Affordable
Betterment boasts some of the lowest fees in the industry and they are extremely straightforward, too. The more money you invest, the lower your fees; annually fees start at 0.35%, go down to 0.25% if you have more than $10k, and drop even further to 0.15% if you have more than $100k.
Betterment also has no rebalancing fees, no transaction fees, and no trade fees; these are all things that might be killing your target date fund returns.
Betterment Is Getting A Thumbs-up From Well-known institutions
At this point you're probably saying, "That all sounds great, but is Betterment legit?" This is usually followed by "Is Betterment safe?"
The answer is an emphatic YES on both fronts. In fact, they are even getting approval from well-known financial institutions. In 2014, Betterment and Fidelity joined forces in an effort to connect registered investment advisors with the automated services Betterment provides. They're also partnering with Vanguard and Goldman Sachs to diversify their offerings.
Uber has partnered with Betterment to provide retirement planning services for their drivers.
Sophia Bera, certified financial planner and founder of Gen Y Planning, is a big fan of the platform and uses it to help her with re-balancing and tax loss harvesting for her clients.
Finally, Betterment now has over $5 billion in assets under management, so you're in good company!
Bottom Line
Betterment is a good place to start for young or beginning investors. It's easy to use, has low fees and takes a lot of the guesswork out of investing. If you sign up through this link, you can get your 1st month free to start.
Betterment Reviews