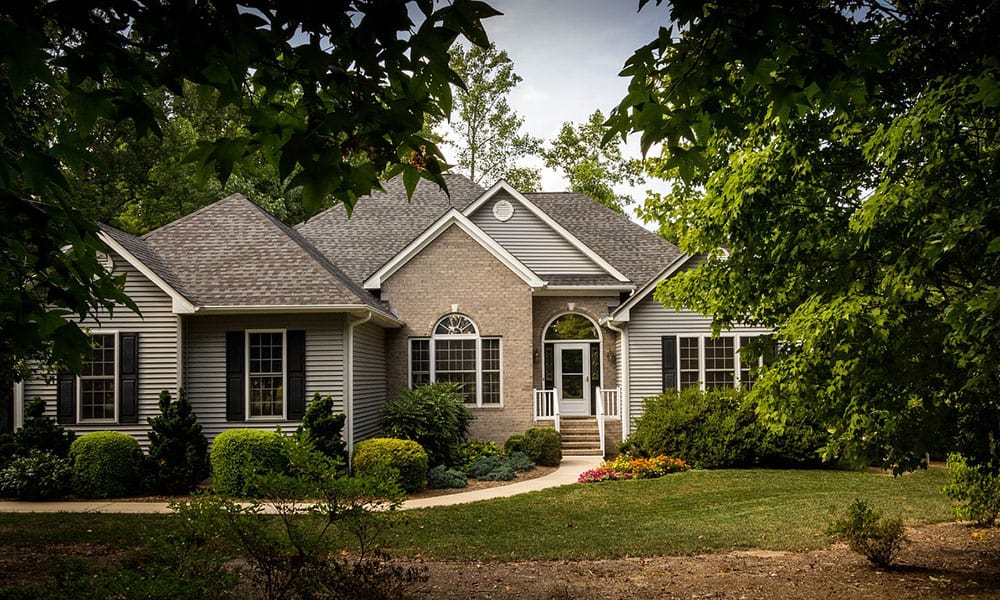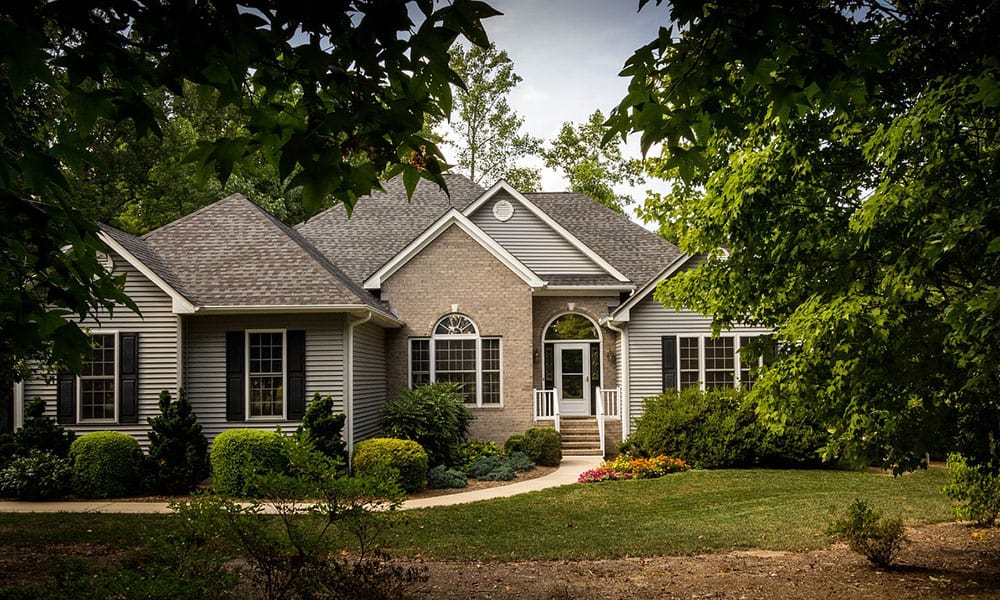 The renters across the street left the home a disaster. And considering the way the they moved out, it wasn't a surprise.
Late one evening, the tenants loaded all of their belongings into a moving truck at a furious pace. Within a couple of hours, they were gone. They left garbage all over the front lawn. There was broken furniture and an old refrigerator in the driveway. They opened the windows and they didn't even bother to close the front door. I called the landlord (John) and told him what had happened.
When I saw John's truck pull up, I walked across the street to say 'Hi'.
John: Do you really think they're gone?
Me: I'm sure of it.
John: Let's have a look.
When we got about 10 feet from the front door, the smell hit us; urine. The renters had multiple animals and they apparently weren't housebroken. The first thing we saw after entering was a pile of animal waste in the foyer. Not good. And it was all over the house. The animals had used the home as a giant litter box. The laminate floors were buckling because of the urine and all of the carpet was destroyed. And there was also junk everywhere.
From observing these folks, I knew that they were big fans of Craigslist. I'd see them come home with their pickup truck filled with old TVs, auto parts, appliances, rolls of carpet and junk motorcycles. When the renters fled that evening, they left it all behind. The landlord had to clean up the mess. Guess who wasn't getting their security deposit back.
The fiasco explains why some folks don't want to be landlords. It takes a special temperament to successfully manage property. The good news is that you don't have to own property directly to invest in real estate. Today, I'm going to be tell you about private lending and crowdfunding through real estate investing apps, two of my favorite strategies of investing in real estate without owning real estate.
Private Lending
I love real estate. I've owned rental properties and flipped houses with wild abandon (and wild profit). At the moment though, I own no rental properties and am between flips. The local housing market is red-hot and I shy away from bidding wars. I recently found another way to invest in real estate via private lending.
I issue loans to help investors buy properties. I have lent a total of $255,000 in three separate deals. These loans bring in over $2000/month in interest only payments. My private lending experiences have been only positive and I'm preparing to invest in additional deals.
Private lending allows me to diversify my portfolio into real estate without the hassles of managing a property. I earn a healthy interest rate while helping an investor with short-term money needs.
When I first heard about private lending, my main question was this:
Why would someone want a loan from me at 10% or more when they have good credit? Why don't they just go to a bank?
There are good reasons why investors turn to private lending:
The property must be seasoned: Most traditional lenders require that a property be seasoned for one year before they'll issue a loan. This simply means that the property needs to have a rental history. Private lending fills the gap.
The loan is for a very short term: Flippers often want to get into/out of a home in just a couple months. It's not worth the hassle of dealing with a bank if the holding period is short.
The money is needed quickly: Banks can take weeks or longer to issue money. A private lender may be able to provide the funds in days.
After I knew why investors needed private loans, I was more comfortable with the idea. Here are some important points to consider:
First lien position: The worst case scenario for a private lender is a borrower default. Always make sure you're in first position on the lien. This allows you to seize the property should the borrower stop making payments.
Mind the loan to value ratio: If a default occurs, you want to be in the best position to get your money back. I require a loan to value ratio of no more than 70%. So, for a property valued at $100,000, I won't loan more than $70,000. This would allow me to sell the property at below market value to get my money back quickly.
Interest rate: Rates typically start at 10% and go up to 18%. Many lenders also charge between 1 and 10 points. A point is 1% of the borrowed amount.
Credit score: This is not as important as you think. Since you're in the first lien position, the transaction is collateralized by a property.
Tax friendly: A self-directed solo 401(k) allows you to issue private loans from a tax-sheltered account. If you have income from self-employment, strongly consider this option.
Evaluate the deal:
Experience: Has the borrower done at least ten deals or is this his first one? Is the borrower organized and professional? Did he write a business plan? Is there an estimate for repairs?
Run the numbers: The property may not be in your neck of the woods and that's fine. However, you need to make sure the numbers are solid. Ask the borrower to provide pictures of the property and research home sales in the area.
What is the Plan? What is the borrower going to do with the property:

If this is a flip, does he have contractors lined up? If he is doing the work himself, does he have the experience and do local regulations allow it? Do permits need to be pulled?
If the property will be a rental and the owner plans to refinance, what is the timeline? What happens of the borrower can't refinance the property? Will there be an opportunity for you to continue to finance the home for a longer term?

To learn more about private lending from the perspective of the borrower, see this article from BiggerPockets.
Where to Find Deals
Private loans are most often executed between parties who have an existing relationship. The borrower may be a friend, family member or someone who you already have a business relationship with.
I also encourage you to make connections with others outside of your normal network. A great way to do this is by becoming active in the BiggerPockets forums. While you must sign up for an account, membership is free.
Private Lending: Advantages and Disadvantages
Private lending is an awesome way to build wealth. Just remember to do your research. It's important to thoroughly understand a deal before taking the plunge. Do your homework!
Advantages
Healthy interest rate: Short term loans (1 year or less) start at 10% and go up from there. I'll never complain about earning 10%.
Control: Investments are in your direct control. You pick and choose who you lend money to.
Collateral: If the borrower stops making payments, he loses the home and his equity. This is a strong incentive for the borrower to not default.
Disadvantages
Upfront research: Private lending requires work. You need to evaluate the deal and the person.
Are your eggs in one basket?: Diversity is important in any portfolio. Make sure that one loan doesn't consume a significant portion of your investments.
Illiquid: While private loans are short-term, your money is tied up for the duration of the loan.
If private lending sounds like too much work, crowdfunding is another way to diversify into real estate without actually owning property.
Crowdfunding
The JOBS (Jumpstart Our Business Startups) Act which went into effect in 2015 opened the door to a new class of real estate investments. JOBS allows the use of crowdfunding to issue securities, something that had been previously forbidden.
You're probably thinking this right now:
Please translate? What does this mean for me?
There are innovative new ways for you to invest in real estate without owning property. RealtyMogul, Fundrise, RealtyShares and PeerStreet are four crowdfunding platforms that you need to know about.
You can also try investing in art via crowdfunding.
RealtyMogul
RealtyMogul is one of the largest players in the real estate crowdfunding business. As of June of 2017, the company has deployed 270 million dollars.
RealtyMogul offers two types of investments, a REIT (MogulREIT) and private placements. Because the MogulREIT is open to all investors (no accredited investor requirement), I'll focus on it.
First, a REIT is defined as:
A REIT, or Real Estate Investment Trust, is a company that owns or finances income-producing real estate. Modeled after mutual funds, REITs provide investors of all types regular income streams, diversification and long-term capital appreciation. REITs typically pay out all of their taxable income as dividends to shareholders. In turn, shareholders pay the income taxes on those dividends.
RealtyMogul's MogulREIT allows you to invest in a diverse commercial real estate portfolio with minimal hassle. Through MogulREIT, you have exposure to investments that would not be available to retail investors:
MogulREIT can invest in a variety of property types, including but not limited to, multi-family, office, industrial, self-storage, retail, medical office, and hospitality. The fund can invest in various commercial real estate-related equity and debt securities across these different property types.
Because of lower fees and the focused nature of MogulREIT, your returns may be higher than the average return on REITs. The MogulREIT is currently returning 8% to investors.
MogulREIT numbers:
Minimum investment: $1,000
Payouts: Monthly
Redemption: Quarterly
Must be accredited?: No
You can start investing with RealtyMogul here.
Fundrise
Fundrise is a platform that I invest with. I opened my account in March of 2016 with an initial investment of $1,000 (Income eREIT) and then added another $2,000 (Growth eREIT) to bring my account to $3,000. I've earned almost $300: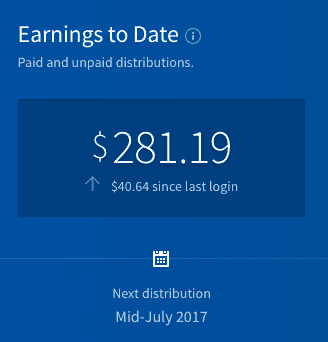 Fundrise has created a portfolio of eREITs and eFunds that invest in commercial and residential properties respectively. Fundrise believes that its strategy will outperform conventional REITs:
By pursuing a private market, direct investment strategy, Fundrise portfolios earn higher annual current income than public income-focused investments.
While my initial investments were in the Income and Growth Fundrise eREITs, they also allow you to invest in specific geographic areas:

Fundrise also has an option that allows you to specify investment goals and your money is deployed accordingly across the REITs/ eFunds: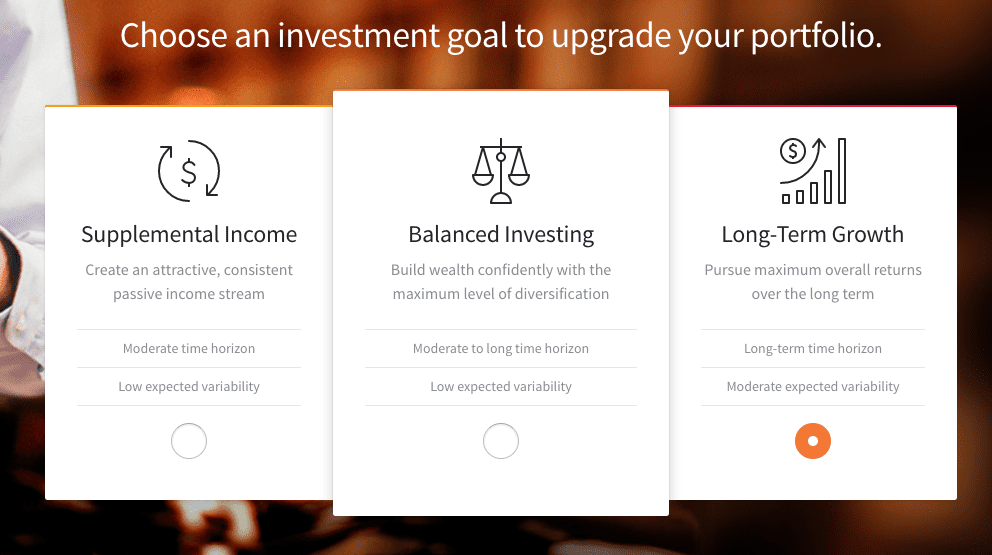 Fundrise eREITs and eFunds numbers:
Minimum investment: $1,000
Payouts: Quarterly
Redemption: Quarterly
Must be accredited?: No
Start investing with Fundrise here.
RealtyShares (accredited investors only)
RealtyShares offers investments in debt (mostly residential), preferred equity and equity (mostly commercial). Unlike a REIT, RealtyShares allows you to invest in a specific property or a pool of pre-determined properties. The platform has done about 650 deals and prides itself on being very picky (less than 5% of deals are accepted).
Unlike the RealtyMogul and Fundrise REIT offerings, investing with RealtyShares requires work. You must vet deals. RealtyShares provides a dashboard to search for potential investments, and you can click on a deal to learn more about it: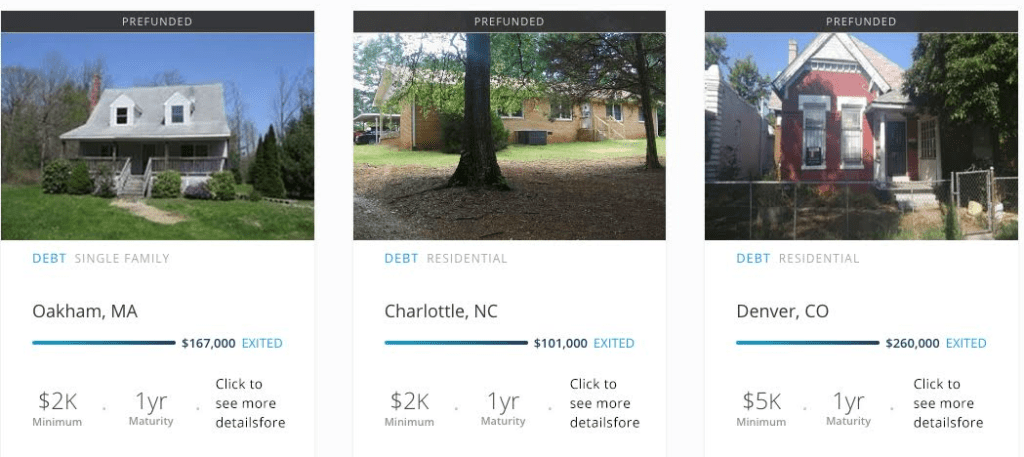 While there's no virtual tours for properties managed by RealtyShares, RealtyShares professionals have already approved the deal, it's up to you to analyze it before jumping in.
RealtyShares' numbers:
Minimum investment: Variable
Payouts: Variable
Redemption: Variable
Must be accredited?: Yes
Start investing with RealtyShares here.
PeerStreet (accredited investors only)
PeerStreet was co-founded by Brett Crosby who famously sold his previous company (Urchin) to Google. PeerStreet is similar to private lending in that you're investing in individual deals. Just like private lending, PeerStreet is in first position on the lien.
This is one of the best investments for accredited investors looking to passively get into real estate.
After setting up an account, you can start researching deals on the PeerStreet dashboard:

Clicking on a deal reveals a detailed view: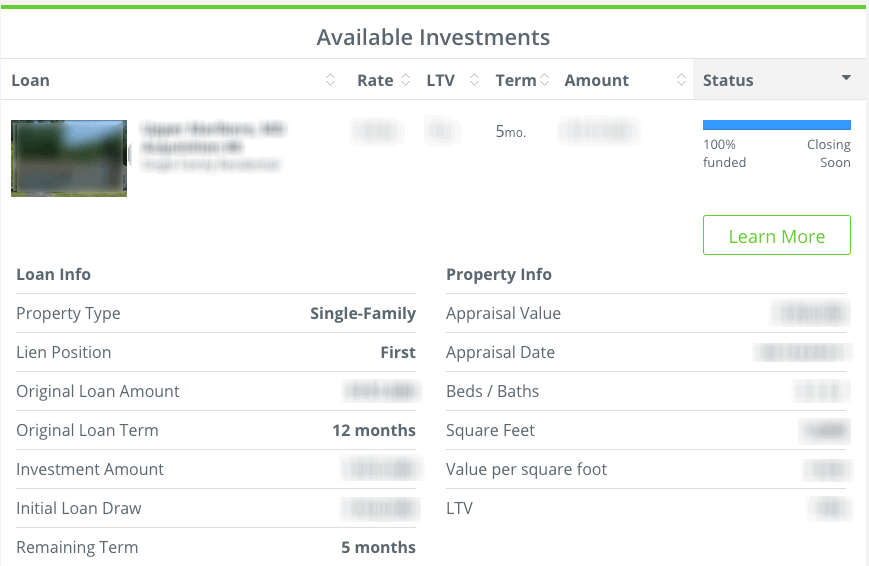 PeerStreet has some advantages over private lending:
Low minimum investment: The minimum investment is $1,000. Because of the low minimums, you can diversify across more deals.
Vetted deals: Experts on PeerStreet carefully review every deal. This is the most difficult part of private lending and with PeerStreet, you have an expert doing all of the hard work.
Automated investing: PeerStreet allows you to define investment criteria. Money is then automatically invested for you.
PeerStreet numbers:
Minimum investment: $1,000
Payouts: Monthly
Redemption: Variable
Must be accredited?: Yes
Start investing with PeerStreet here.
Crowdfunding: Advantages and Disadvantages
Crowdfunding platforms offer an innovative way to invest in real estate without the hassles of property ownership. Just remember to do your research.
Advantages
Experts have your back: The deals offered on crowdfunding platforms are vetted by experts.
Their REITs may outperform traditional offerings: Because of the focused nature of the Fundrise and RealtyMogul REITs, they may have better returns than a traditional REIT.
Diversification: I'm a big believer in index funds and the diversity that they bring. Crowdfunding platforms, especially the REIT offerings, offer diversity in real estate.
Access to real estate that's not normally accessible: Commercial real estate and land are difficult for a retail investor to purchase.
Disadvantages
Risk: The crowdfunding platforms are all very new. None have been tested by a recession.
Higher fees: The management fees are higher than a low-fee index fund or a traditional REIT.
Illiquid: The REITs have quarterly redemption options while the private placements are longer term.
I Love Real Estate
My long term goal has always been to acquire additional investment properties. Over the past four years, I've made offers on three different properties, only to get outbid every time.
I'm second guessing my real estate dreams now. Why deal with bidding wars, the hassle of tenants and leaky faucets when you don't have to?
And if you have any doubt about the performance of real estate, listen to Josh Brown:
In the next month, I'll be investing in two additional private loans and also investing my first $10,000 in PeerStreet. Perhaps I'll never own an investment property again? From the experience of my landlord friend across the street, this may not be a bad thing.