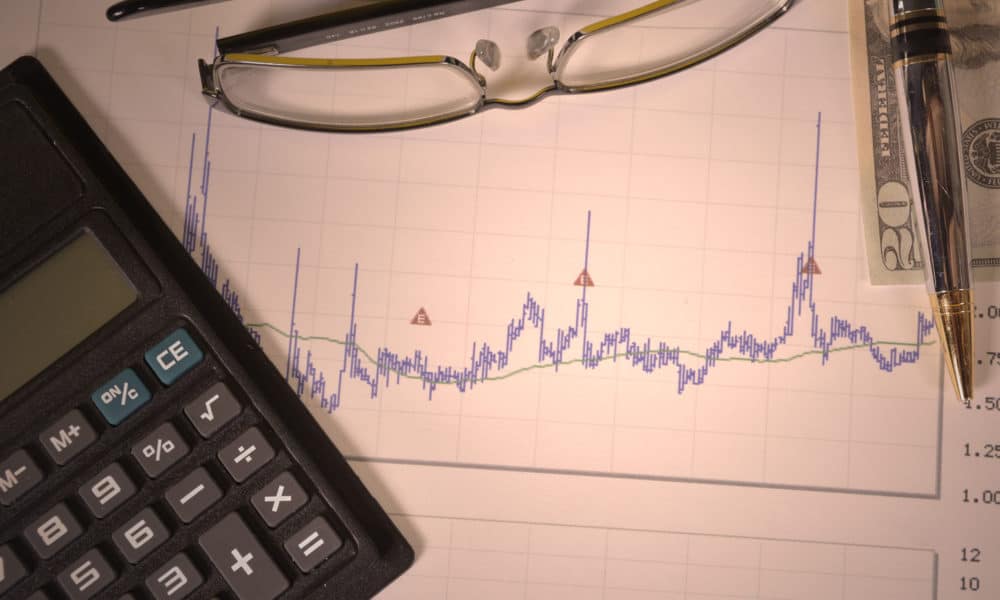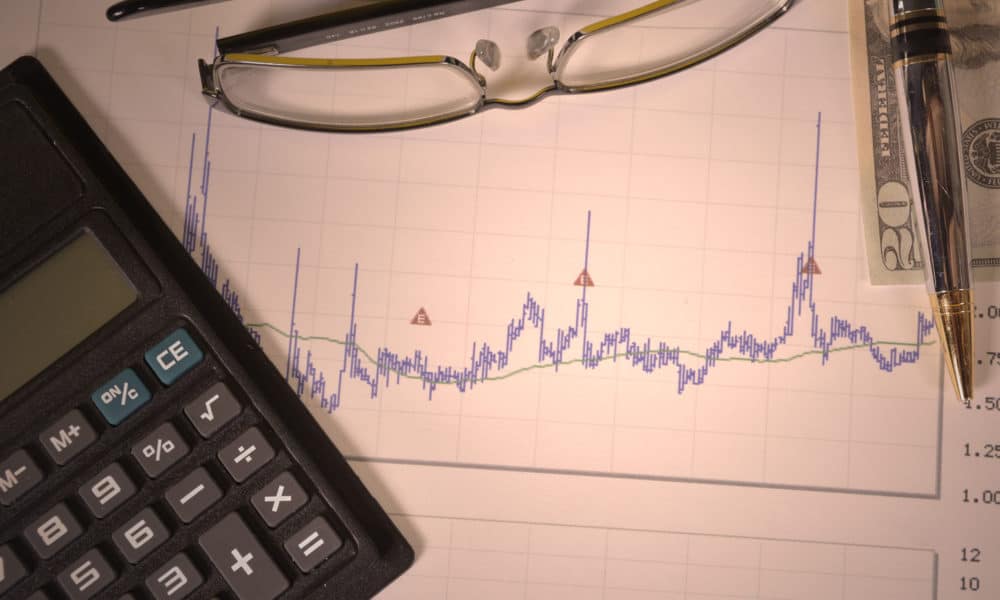 The internet is full of websites and stock research tools that analyze equity markets and help investors choose the best stocks out there.
Investors need to understand the product that is most suited to their investing style, risk tolerance and budget. Some investors are pure numbers-players, others connect dots around the world to come to a decision, while many are on the lookout for the next big idea.
Individual stock picking requires considerable analysis. Early investors who are starting out their journey are better off considering passive investments and low-cost index funds, rather than researching and buying stocks on their own.
We have put together a list of some of the best stock research sites where you can get news and data on companies, the economy and the market.
1. WallStreetZen (Best Stock Research Website In 2023)
WallStreetZen was created when its founders were frustrated with existing stock research websites, so they set out on a mission of creating a better stock analysis experience for investors who are serious about deeply understanding the stocks they invest in, but aren't financial professionals themselves.
The idea behind this stock research website is simple – most stock research sites are created by finance professionals, for finance professionals. As a result, they tend to be cluttered with dense tables filled with financial ratios and numbers, but they don't give you the context you need to easily understand the data.
WallStreetZen takes a different approach – they don't just show you financial data, they also help you interpret the data and understand the context.
How, you might ask? Their Zen Score and automated due diligence checks run key financial checks that experienced investors would run (usually using spreadsheets), and they present the results in easy to understand, one line explanations.
And instead of packing every page to the point of data overload, they've carefully selected important metrics that every investor should pay attention to and they help you visualize the historical and industry context behind the numbers.
For example, here is how Yahoo Finance shows you the P/E ratio for AMZN:
Here is how WallStreetZen shows you the P/E ratio for AMZN:
Here is how Yahoo Finance shows you Return on Equity for AMZN:
Here is how WallStreetZen shows you Return on Equity for AMZN:
Lastly, it's obvious that WallStreetZen cares deeply about creating a great user experience.
Much like the Robinhood app provided a cleaner, sleeker user experience for investors who weren't satisfied with the clunky interfaces of traditional brokerages, WallStreetZen does the same for stock research and analysis websites.
Unlike most stock research websites that are cluttered and packed with too much data in every pixel, WallStreetZen's design is minimalist and clean while still focusing your attention on the information you need to make good investing decisions.
WallStreetZen is currently in beta mode, but its unique features and focus on user experience already make it one of the most indispensable stock research sites for investors who want the best stock analysis software with more insights, and less noise.
You'll definitely want to experience it for yourself, just click here to give it a try (it's free).
Just a little disclaimer: WallStreetZen was started by one of the founders of InvestmentZen, so while we can't claim to be unbiased, you can check out the product and decide for yourself. 
2. Motley Fool Stock Advisor
The Motley Fool is one of the most well known and best stock research sites in the world.
It is one of the most popular stock advisor platforms out there when it comes to investment news and advice. Founded in 1993 by brothers David and Tom Gardner, The Motley Fool offers a combination of free news and paid financial advice and research. 
Motley Fool launched its Stock Advisor product in 2002. The product is priced at $99 for an annual subscription or $19 for a monthly subscription.
What this product does is simple: Both brothers recommend stocks (after extensive research) that aim to beat the market. Since inception, Stock Advisor picks have delivered 333% returns compared to 77% by the S&P 500.
The dynamic duo at the Motley Fool give out two monthly recommendations of stocks that they believe will beat the broader markets in the long-term.
Similar to most investors, David and Tom are not concerned about short-term volatility and expect the company's strong fundamentals to outperform the S&P 500 over a period of time.
While it is not possible to buy every single recommendation, you need to buy a good number of recommended stocks to be successful and outpace overall market returns.
Apart from the Stock Advisor (read our full Stock Advisor review here) report, investors also get:
Starter Stocks: This a curated list of 10 of the best stocks every month by Motley Fool experts for the investor who is just starting out in the market. These are rock-solid stocks that can build the foundations of a great portfolio (What's a portfolio? Learn more and see an example of a stock portfolio.).
Best Buys Now

: David and Tom Gardner regularly give you a list of the best opportunities in the market at that moment.

S.A. Knowledge Base

: Provides 24/7 access to the full Stock Advisor library of proprietary reports and research compiled over eighteen years – ideal for all levels of investors with a desire to learn.

Market News Coverage

: This is a pitstop where you can any investment worthy news from across the world.

The Motley Fool Community

: Here every month investors can connect with fellow members and the actual analysts behind the Stock Advisor team. It promotes the

exchange of investment ideas

and a robust platform where investors can learn from each other. 
Stock Advisor's biggest successes since launch include Booking.com that is up 5,561%, Marvel (later acquired by Disney) which is up 5,464%, Amazon.com that is up 15,107% and Netflix stock that is up 18,497%.
Stock Advisor members who invested $1,000 in each of those stocks on the day Stock Advisor came out with their recommendations are sitting on over $450,285 today. You can try Motley Fool Advisor with a 30 day membership fee refund guarantee by signing up here.
You can also check out this Motley Fool Stock Advisor review if you want to learn more.
3. Tokenist's Newsletter: Five Minute Finance
The Tokenist is a financial media publication which produces world-class educational content on all aspects of investing and personal finance.
Led by Timothy Fries, partner at Protective Technologies Capital, The Tokenist received a 100/100 rating from NewsGuard, an independent agency which evaluates media publications for journalistic integrity.
The Tokenist has a few different content offerings—and all of them are quite impressive.
First, the publication has a news desk, which specifically focuses on the integration of finance and technology, maintaining a macro-economic outlook. Coverage can include in-depth analysis on anything from digital assets, to meme stocks and Robinhood's payment for order flow (PFOF), to the ways in which U.S. monetary policy is anticipated to impact certain asset classes.
The Tokenist's editorial vision largely focuses on the ways in which emerging technology is becoming increasingly integrated into capital markets—which makes it quite unique.
The publication also routinely publishes extensive guides written by financial experts which aim to help readers optimize the wealth creation process. The Tokenist's well-rounded, insightful library of guides will help individuals learn about all aspects from investing, to include choosing the right broker, trading stocks, options, forex, and more—for beginners and veteran traders alike. If this piques your interest, check out the best options trading platform.
The Tokenist also offers a free newsletter, called Five Minute Finance (5MF). Published each Friday, the newsletter captures five of the week's biggest events in the realm of finance and technology—and provides additional context to illustrate ongoing trends.
And honestly, it's clear to see that Five Minute Finance produces signal, among an overly crowded sea of noise. Five Minute Finance is largely why The Tokenist takes the number three spot in our list of the best stock research websites.
Here's an inside view of a previous edition of 5MF: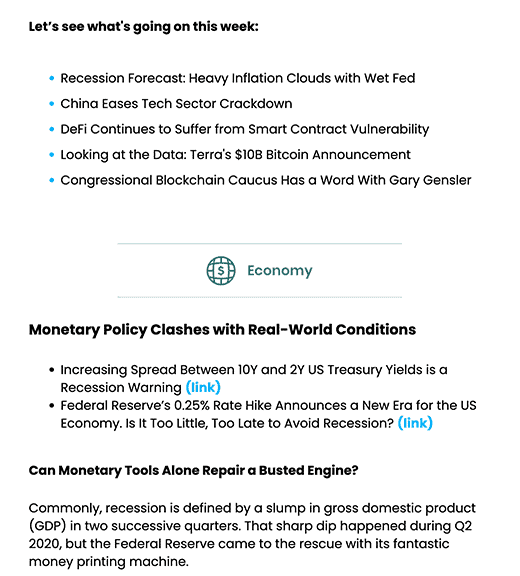 5MF boasts over 111k subscribers – so while it does not provide actionable investing advice, it helps investors maintain a pulse on the market environment—explaining where things are now, and where they're going.
There's a lot of noise out there – but 5MF aims to deliver valuable insights by illustrating trends, keeping investors in the know about the most important events to impact financial markets.
In summary:
It's free

Published once per week, each Friday

Maintains a big picture view of financial markets, identifying larger trends to keep investors in the know

Focuses on the integration of finance and technology, covering FinTech and digital assets
If you don't want to miss out on the next big thing to hit the world of finance, be sure to sign up for Five Minute Finance—it's free.
4. Morningstar
Morningstar is one of the world's most widely respected equity research firms.
This is not a website for investors who trade using charts, this is for the value or fundamental investor.
There is no charting and technical analysis on this site and there is no talk of buy and sell indicators here, making it one of the best stock websites for long-term investors.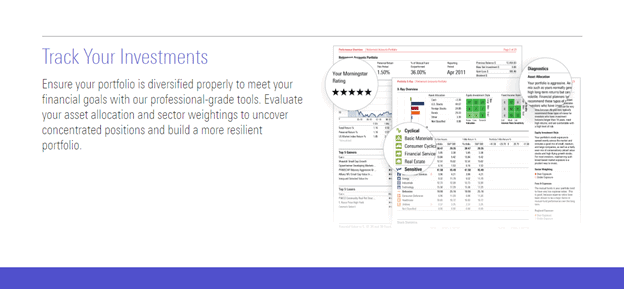 You come to Morningstar to understand and start allocating your budget into assets and investments that suit your investing style. The Morningstar premium membership costs $199 annually and is well worth it.
It changes the way you look at investments because you start relying on hard data and sound analysis. You will find yourself making better decisions as you continue to use this tool. Numbers start to make sense and you feel like you are in constant touch with a financial advisor from the comfort of your home (and sans the expensive fees).
While Morningstar (see our Morningstar Premium review) rates and analyses securities like stocks and bonds, its primary focus is mutual funds. This membership is perfect for investors who want to buy and hold for a long time.
Investors of every kind can tailor Morningstar research and tools according to their specifications. Premium members can:
Find new investment ideas using the most popular screeners for research.

Evaluate investment ideas by unveiling buying opportunities across sectors thanks to the unlocked data and ratings.

Monitor their investments using Portfolio X-Ray that shows how your asset allocation is holding up, enabling premium members to rebalance their portfolios.
Morningstar has pre-sorted their current top mutual fund, stock, and ETF picks using proprietary data points and featured them by type and investing goal making it easy for premium members to pick the best.
Morningstar premium has planning tools for tax planning, personal finance, and retirement and education investing.
The Instant X-Ray tool, in particular, is one of the best out there, and it ensures that you are not over-invested in a particular country, sector or stock. The tool takes a mutual fund's quarterly SEC reporting of its individual stock allocation and helps determine your investment spread.
Basically, this tool does take a look at your asset allocation and then helps you determine if you are overinvested in a particular company. The report divides your portfolio into Cyclical, Sensitive and Defensive. For example, housing is a cyclical sector while electricity is defensive. Tech stocks and oil stocks could be sensitive.
If you are not sure about going in for the premium membership, there is an option of a 14-day trial period, making it one of the most flexible and best stock analysis websites for investors.
Morningstar analyst reports provide in-depth, continuous analyses from over 150+ independent analysts. This enables investors make decisions with confidence knowing the data and research that has gone into every single one of the ratings.
A lot of free investing apps use Morningstar ratings to make it easier for investors to choose the right investment. That should give you an idea of how highly Morningstar is rated. Of course, you only get access to the detailed analysis and reports on the premium membership.   
Here's a helpful comparison of Morningstar vs Motley Fool (our 2nd pick), if you want to learn more.
5. Seeking Alpha
Seeking Alpha is a website for advanced investors. This is a rather different kind of website in the sense that it is crowdsourced, giving it exceptional coverage of smaller cap stocks that receive little or no attention from Wall Street analysts.
The site offers a lot of articles and blogs for stocks and financial markets. The writers include amateur as well as professional investors, a lot of whom have backgrounds in buy and sell-side research.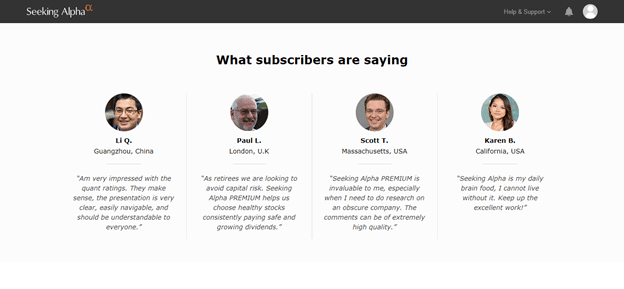 If you are someone who understands advanced jargon and day-to-day terminology used in Wall Street, you'll love following other finance professionals on Seeking Alpha. It is one of the best stock websites for people who want to access top-quality research for public equities. 
As you get used to the style at Seeking Alpha, it could very easily turn into a one-stop-shop for you for all things related to investing in stocks, market analysis and insights.
Most articles on Seeking Alpha are free for a limited period of time for registered users. Sometimes articles as young as 10 days go behind a paywall. Seeking Alpha Premium is the basic premium product from the company that charges subscribers $29.99 monthly or $19.99 (if paid annually).
Apart from basic news and articles, Premium offers unlimited access to Seeking Alpha archives. That's over 1 million articles. You get to view author performance and ratings, along with quant ratings, dividend forecasts and scores. Check out this review of Seeking Alpha Premium for more details.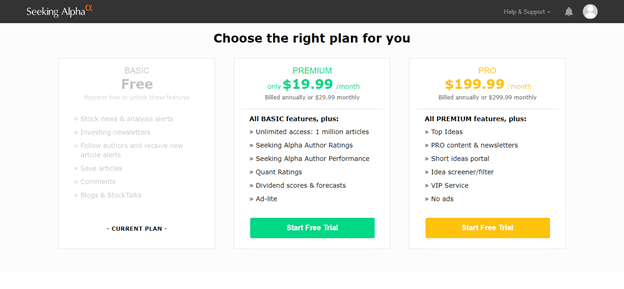 For the investor who wants even more, Seeking Alpha offers Pro. The site publishes over 200 articles a day. Pro is where the team picks through the best-researched articles for subscribers, letting them start their due diligence on articles and informational research that is best suited to their investing style.
(What's due diligence? Read: What Does DD Mean in Stocks?)
The Pro service provides charts, research, analysis, newsletters, emails and personalized service to all content on Seeking Alpha. For example: Members can create specific tickers tailored to the securities they want to analyze and invest in.
Seeking Alpha has priced at its Pro subscription at $299.99 a month or $2,399 (which is about $199.99 a month) for the entire year. Pro subscribers get the following benefits:
       

Unlimited Analysis

: Access to all the research and analysis on the website.

       

Top Ideas

: Pro members get exclusive access to timely and well thought out expert long and short ideas. These actionable strategies help investors analyze new opportunities early on.

       

Weekly Digest

: The best stock calls, ideas, exclusive interviews and newsletters are emailed to members.

       

VIP Customer Service

: Personalized priority support through Seeking Alpha's phone and email service.

       

Powerful Screeners

: Smart screening and filtering tools that enable members to surf Pro author content and search for investment ideas on different parameters. You can save time with more focused research and create investment opportunities for yourself according to your investing style and financial goals.
 6. AAII (American Association of Individual Investors)
You can add AAII to the list of best stock research websites. This is the only non-profit website that is on this list. Launched in 1978 by Dr. James B Cloonan the American Association of Individual Investors (AAII) has a simple mission. It wants to make individuals responsible for their own investment journeys by educating them, informing them and providing research to them, particularly in the mutual fund space.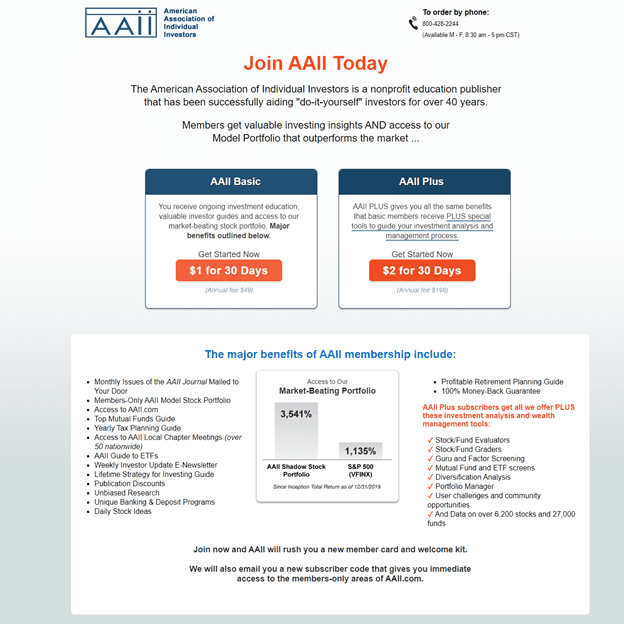 And it wants them to beat the average S&P 500 returns while taking on lower-than-average levels on risk. The premise is simple. An unbiased platform can provide the best investment advice.
Sounds far-fetched? Well, it isn't. AAII runs on a freemium model like most sites.
While some information is available to everyone, only paying members get access to a monthly journal, mutual fund analysis, stock screeners and model portfolios. The Better Business Bureau gives AAII a rating of A+.
The membership fees at the AAII are a paltry $29 per year. You can also opt for a 30-day trial at just $1.
The most popular paid resources that the AAII provides are:
       

The AAII Journal

: This journal is published, ad-free, every month.

       

Asset Allocation Models

: Here members can view the performance of popular investment benchmarks.

       

Stock Ideas

: Members get to explore a wide range of strategies and investment ideas best suited to their investing style.

     

AAII Model Shadow Stock Portfolios

: This is our favorite product from the AAII stable. It provides investors guidance for investing in the micro-cap sector. The focus of this model portfolio is on reducing risk and portfolio formation.
It shows when you take multiple risky stocks into your portfolio but if your portfolio is well-diversified, the risk of individual stocks is reduced by 70%.
The model encourages you to invest in at least 10 stocks to maintain a diversified portfolio. AAII manages this portfolio by simply reviewing earnings on a quarterly basis.
You can utilize the resources on AAII's Stock Ideas to get a list of potential Shadow Stocks. This list is updated daily. The Ideas list shows all companies that meet the criteria for the Shadow Stock screen. However, this doesn't mean that stocks that appear on the list will be added to the model portfolio.
The Model Stock Portfolio is a great tool that shows the investor how to develop a value-oriented approach towards investing. Considering that you will be investing in companies with great volatility, you will need to be extra careful here.
7. Zacks Investment Research
Zacks Investment Research is a well-known research website and stock picking service that often comes out with contrarian views. The website has a large archive of free content – the same as most websites — to hook readers and potential investors on to their research and information. Zacks goes beyond the usual articles with video commentary and podcasts in multiple topics, making it a comprehensive stock research website.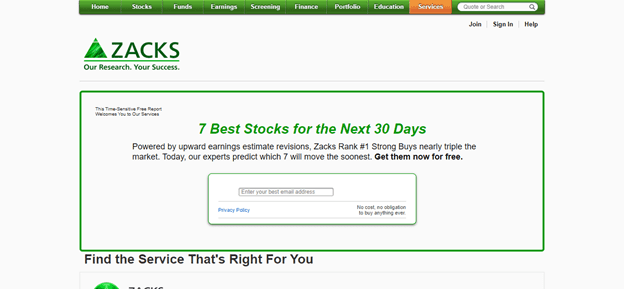 Over 500,000 'Zacks Profit from the Pros' members receive a free newsletter every morning ( ranked among WallStreetZen's 3 best investment newsletters ) where they are briefed on key market developments. Along with this, they also get the Bull Stock of the Day from the Zacks Rank system. Zacks claims that this delivers more than doubles the market with an average gain of +24.13% per year.
One of the best things about Zacks is that they have their own mutual fund ranking system that helps its members evaluate the funds that will give them the most profit. That is all that Zacks focuses on- the bottom-line. In April 2020, approximately 19,000 mutual funds have been tracked and evaluated by Zacks.
Zacks' rating system for mutual funds is simple. A 1 implies a great mutual fund while a ranking of 5 indicates a horrible one. Zacks' research relies on quantitative data more than fundamental analysis which is not necessarily a bad thing depending on your investing style.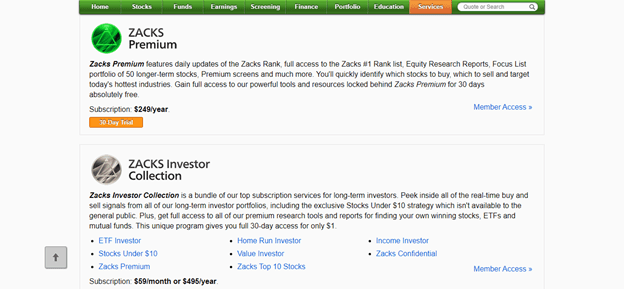 Investors who want more than the free stuff can opt for Zacks Premium which gives them the following:
 

Zacks #1 Rank List

: This is a collection of the top stocks that have more than doubled returns compared to the S&P 500 since 1998.

Industry Rank List

: This is an extension of the #1 Rank List. Here, Zacks ranks industries by evaluating them on the Zacks Rank. The Zacks Industry Rank is calculated by considering the average Zacks Rank for all relevant stocks in a particular industry. The algorithm then assigns an ordinal rank to it.
Here, an industry with a lower average Zacks rank is better than an industry with a higher average Zacks Rank.
Premium Screens

: Zacks Premium Screens lets you evaluate and choose from over 45 predefined screens according to your investing style. You can choose to browse through Zacks' bear market strategies. Considering the next couple of quarters don't look great, this is a solid feature to exploit.

Focus List

: This is a collection of 50 top long-term performing stocks based on earnings momentum.

ESP List

: The Earnings Expected Surprise Prediction or ESP is a great way to make some quick profits as you can use this filter to predict what stocks will have a great earnings season and pick them up before announcements.

Equity Research Reports

: This is simple enough. Members get access to equity research reports for more than 1,000 stocks.
There's a lot of data on Zacks. It can get overwhelming at times, especially when it comes to options contracts. If you're interested in using Zacks Options Trader, head over to what is vega in options to start learning. 
Zacks Premium costs members $299 per year but you can also avail of a 30-day free trial period.
8. Yahoo! Finance
Yahoo! Finance is the most popular finance website in the US with 70 unique million users visiting it every month.
It is considered to be among the best stock market websites out there.
The amount of information available on this site is simply unmatched. A lot of websites on this list including Motley Fool, Seeking Alpha and Zacks (read our review of Motley Fool vs Seeking Alpha vs Morningstar vs Zacks here) derive a large amount of their traffic through Yahoo Finance. Its portfolio of stock research tools make it an ideal pick for the experienced investor.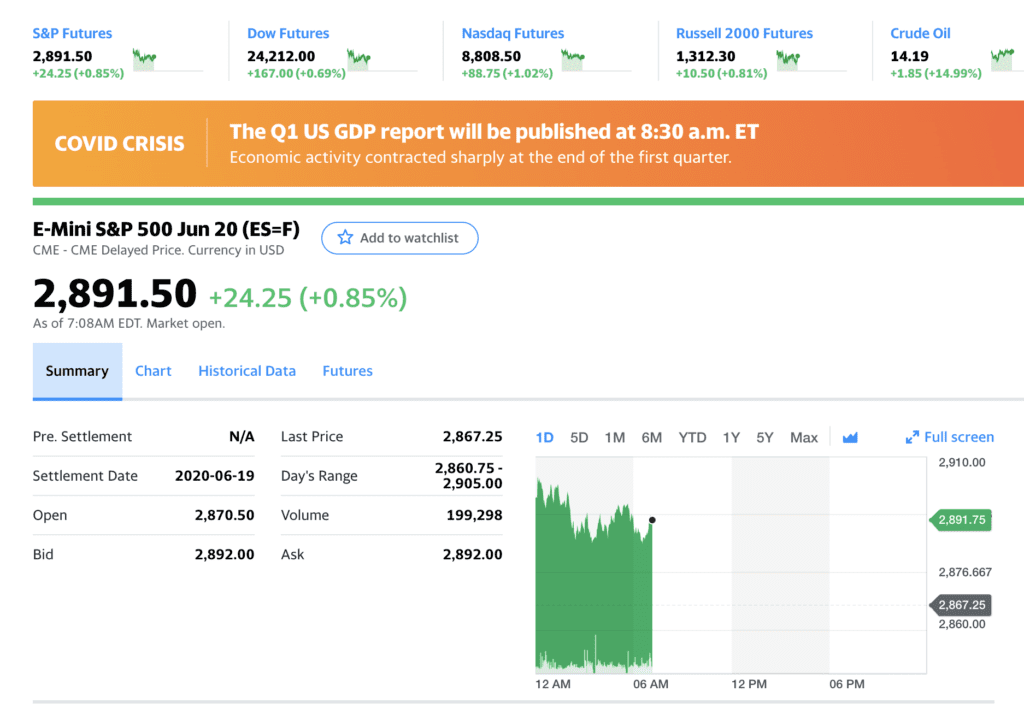 Yahoo! Finance is popular as a starting point beginners who are interested in investing.
The site has a basic set of tools that it provides investors to get started on their journey.
Stock Screeners

: Yahoo Finance has predefined, ready-to-use stock screeners that you can use to search stocks by industry, index membership and more.
Yahoo Finance has one of the best free stock screeners on the market.
Examples of screeners include Fair Value Screener (Undervalued stocks with a strong & consistent history of earnings and revenue growth), Undervalued Growth Stocks (Stocks with earnings growth rates better than 25% and relatively low PE and PEG ratios), Growth Technology Stocks (Technology stocks with revenue and earnings growth in excess of 25%), Undervalued Large Caps, Aggressive Small Caps and a lot more.
You will need a Yahoo account to get started on Stock Screeners.
My Portfolio

: This is our favorite Yahoo Finance tool. In case you haven't spotted a trend, we like portfolio tools. They are a one-stop-shop to track our investments, and they show us all the data we need.
This Yahoo Finance tool lets you track portfolios (stocks, mutual funds, ETFs), you can customize the screen view, decide the parameters you want to input like valuation metrics and price movements.
You can manage your holdings efficiently and create custom views using over 60 data points. You can also key in the purchase prices of the shares you have invested in and calculate profits or losses. All the data is available in real-time. A Yahoo account is required to start building your portfolio.
 

Markets

: The market data section on Yahoo Finance is another great place to start for the young investor. You just have to click on the Markets link on the home page and you can choose the category you want to take a look at. Everything from mutual funds, to cryptocurrencies to futures to US bonds and Treasuries is available in this section.
Yahoo launched its premium service in August 2019. Subscription costs $34.99 per month or $349.99 annually. The service is integrated into Yahoo Finance's existing desktop and app products. Key features of the product include:
Premium Data and Charting

: This is great for 'charters' and day traders who can identify, evaluate and trade on new opportunities based on automated pattern recognition for

technical analysis

. If day trading is your thing, here's the best trading platform for day trading.

 

Advanced Portfolio Analytics

: The tool measure portfolio performance and you can analyze and manage risk and volatility.

Research Reports and Investment Ideas

: One of the largest repositories of third-party research reports created by analysts across the world. You can also get reports through an algorithm best suited to you. Stay updated on companies that you follow regularly and action ideas according to the current environment.

 

Company Profiles

: Go beyond fundamentals as you get better insights into the hiring, innovation and patent updates for various companies.
9. Google Finance
Google is trying to compete with other financial websites in the best way it knows. By going completely free.
Google Finance is a tool that budding investors should use as they try to get their feet wet in the financial markets today.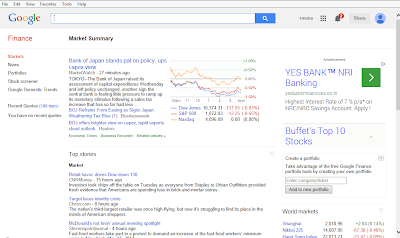 It's a solid site to go and analyze a large amount of financial data, including stock quotes and financial news before you decide where you want to invest your money. It's very similar to Yahoo! Finance in the sense that it is a repository of real-time data and offers a lot of similar services.
You have a world markets section where you can see how stock indices around the world are performing.  The currency section does the same when it comes to world currencies. You can also view bond yields.
The website used to have a stock portfolio tool and a stock screener that was pretty good but it has since been discontinued. However, there is a Watchlist section on the page where you can add securities that you want to track and it does a pretty good job of it. If you're looking to dive into more complex data, take a look at the features in our Benzinga Pro review. 
This is a simpler website to use than the others. One thing that works in its favor is that we use so much of Google in our daily lives that navigating on this site is very intuitive. That said, think of Google Finance as your foundation building site before you move on to the big boys.
10. Barron's
When it comes to compiling a list of best stock research websites, it is difficult to drop Barron's from the list.
Barron's is well known for its magazines that help people out with their investments. Investors are expected to already have an idea about financial basics and terminology. Barron's comes out with a cover story every week that analyzes an industry or a business in great detail.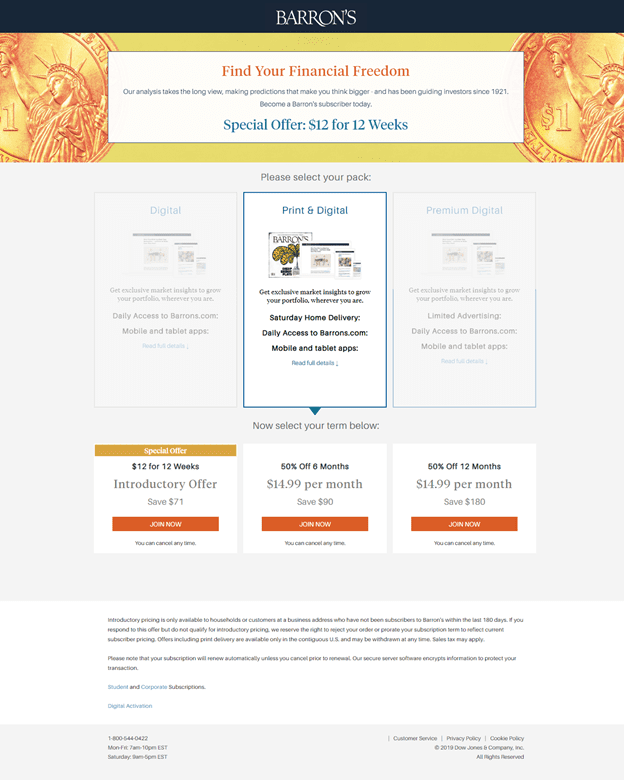 The magazine itself is full of investment ideas where the authors go very deep into researching the articles and businesses they write on. The five picks they give out every week are based on business or fundamental analyses and not technicals. These are stocks you want to hold on for a long period.
Barron's is one of the top online media platforms in the United States. Magazine readers get well researched weekly articles that equip them with investing ideas, recent market trends and trading concepts.
The Data section of Barron's is split up into Stocks, Bonds, Currencies, Funds and ETFs, and Commodities. Barron's target audience is made up of experienced financial professionals, money managers, hardcore individual investors and senior management.
It has a Market Week section that focuses on trading strategies ranging from options trades to ETF trades. If you're looking into complex derivatives like options, do some research on the safest options strategies first. 
The pricing is expensive at $179 for the whole year or $99 for 30 weeks.
But Barron's is running an offer right now where you can get 12 weeks for $12. It's not a bad investment to check it out for a quarter and decide if this one is for you.
Honourable Mention
Here's an honourable mention to StocksTelegraph.com which didn't make the list but is another helpful stock research website.
For even more ideas, take a look at the top Bloomberg Terminal alternatives.
The Best Stock Research Websites – What's The Bottom Line?
The above list is just a selection of the best stock market websites and the most popular investing resources out there for the avid investor. However if you have a specific style of investing, you may want to look at different sites (here is a list of fundamental analysis tools)
The best stock sites look to engage self-directed investors who aim to create and manage their own portfolio. The internet is full of websites and stock research tools that analyze equity markets and help investors choose the best stocks to buy now.
These platforms are vast oceans of knowledge and we know that knowledge is power. However, if you don't have the time or expertise to pick individual stocks, you can opt to leverage passive investing instead.
Headline image used under creative commons attribution license 
InvestmentZen Images