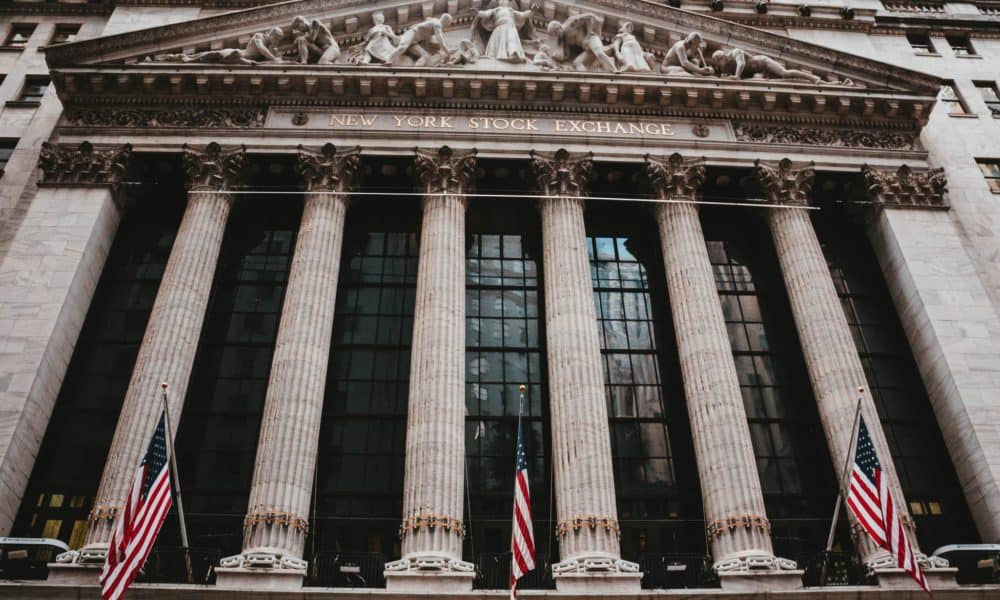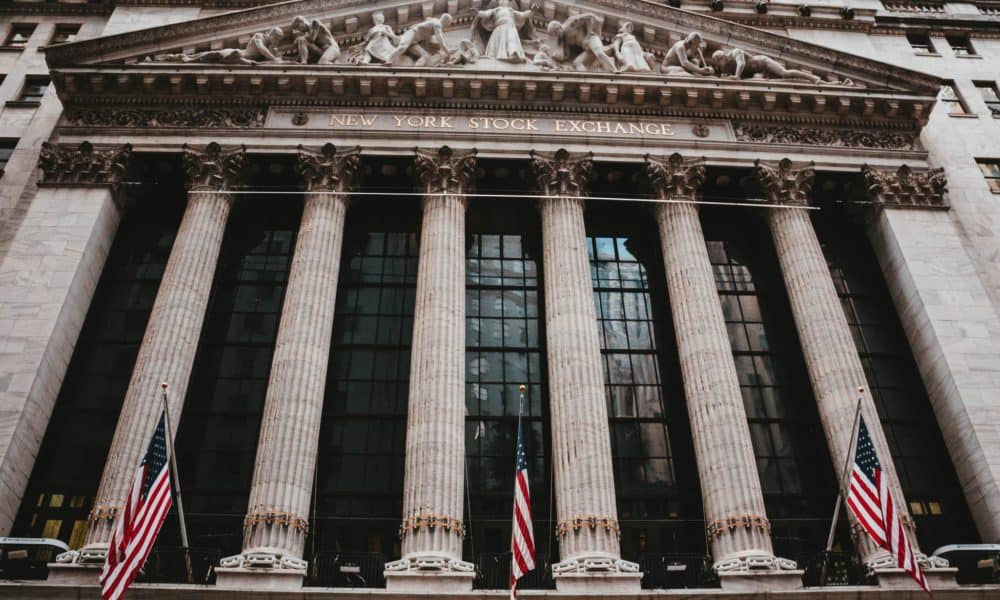 The stock markets have generated massive wealth for disciplined investors over the last few decades, and stock investing is as popular as ever amid a low interest rate environment where bond yields are nearing record lows.
Further, there is a lot of volatility in stock markets today. This presents an opportunity for smart investors to do select stocks that outperform the broader markets.
There's just ONE slight hiccup.
How do you choose winning stocks out of a sea of thousands in the stock market?
Stock picking isn't easy. You need to identify companies that have the potential to endure multiple business cycles and survive economic recessions. Then you need to have the conviction and fortitude to buy and hold for the long-term.
It's certainly not for everyone.
To succeed, you need to deep-dive into company financials, look at the valuation of peer companies, analyze financial ratios, quarterly results and much more.
That's where a stock screener comes in handy. A stock screener is the perfect financial tool to help you screen for stocks that fit your strategy.
Often, you have criteria for stocks you want to select but you can't possibly keep track of the sheer number of stocks out there.
The best stock screeners can help you search and narrow the universe of stocks that meet your criteria.
So, what is the best free stock screener and which is the best paid stock screener for investors and traders?
1. WallStreetZen Stock Screener (Best Stock Screener in 2023)
WallStreetZen has the best stock screener in 2023.
It's the easiest stock screener for beginners to get started with, but it also has powerful functionality for experienced investors looking to narrow their universe of stocks.
It offers a massive amount of valuable free functionality, along with reasonably priced Premium features (unlimited data, ability to save screeners) for power users who want to go deeper in their stock research.
Here are just a 5 of the many reasons why we selected WallStreetZen's stock screener as the best stock screener in 2023:
Super easy to use
Beautiful interface
Unique datasets like analyst stock forecasts and due diligence checks
Library of pre-screened stock ideas
A good balance of fundamental and technical screening criteria
One feature that really sets WallStreetZen's screener apart from the other screeners on this list is the library of stock ideas.
These are screeners where filters have already been applied for you.
For example, if you want to find stocks that have dipped recently but still have strong long-term prospects – you can view a list pre-screened "Buy The Dip" stocks:
Or if you you want to find undervalued growth stocks, instead of setting up your own filters – you can just use the pre-filtered "Undervalued Growth Stocks" idea.
These are just a couple of the dozens of pre-screened stock ideas for you to choose from.
For novice investors, this makes screening for stocks super easy. For advanced investors, it's a great starting point since, you can further customize the filters to meet your own needs.
You can check it out for yourself here.
Analyst Forecasts
Another feature we love is the ability to quickly see analyst forecasts and price targets – right there in the stock screener.
You can quickly see a list of stocks that have been given a "strong buy" rating by analysts, or have high upside (high price target relative to current price).
You can also see forecast revenue and even forecast return on equity – for those who care about fundamentals metrics.
You can mix and match these analyst forecasts with a ton of other criteria, including valuation ratios, solvency ratios, technicals, price changes, insider buying/selling – and much more.
Easiest way to get started is to try it out for yourself here.
A powerful stock research platform
In addition to their screener, WallStreetZen offers a powerful, full-featured stock research platform at a reasonable price.
While a full review of the platform is beyond the scope of this list, we'll leave you with a 3 minute video showing some of the ways you can use WallStreetZen's platform to uncover hidden gems.
You can go to WallStreetZen.com to start your stock research today.
2. Yahoo Finance Stock Screener
Although the interface can be clunky at times, Yahoo! has one of the best free stock screeners for beginners today.
It's a great tool for traders to start off their journey. Yahoo has updated its stock screener and today, traders have access to over a 100 different indicators to choose the stocks best suited to them.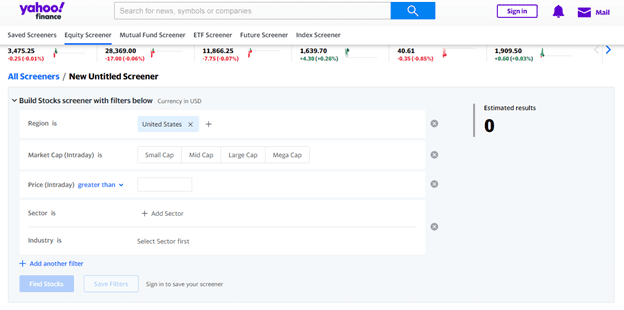 You can choose between screeners on the Yahoo! finance screeners page. Options include Saved screeners, Equity screener, Mutual fund and ETF screeners, as well as Future and index screeners.  Since we are looking at the best stock screeners available, we will look at the Equity screener.
You can choose the region you want (Example: United States). When it comes to market cap you can choose from small cap, mid cap, large cap and mega cap. The intraday price allows you to choose based on share price. You can choose 'greater than' or 'less than' as well as 'equals' or 'between' prices.
Then you can filter stocks according to your sector of choice. For example if you are looking for companies to invest in the healthcare sector, you can further filter options by verticals in this sector that include hospitals, pharmacies, pharma companies etc.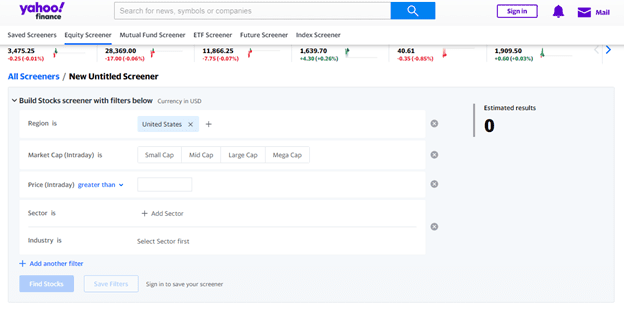 The share statistics menu of the screener has multiple filters that range from average volume to beta to long term debt/equity to 52-week highs and lows. You can also choose from income and valuation filters (below) where you can check out EPS, net income, EBITDA, gross profit, total revenue etc.
This is a pretty good free stock screener for people who want to dip their toes into the world of investing and trading.
3. Zacks Stock Screener
Zacks has one of the best screening tools out there. The Zacks Stock Screener is good enough for NASDAQ to use it. It has a lot of metrics and one of the standout functions of this screener is that you can specify the exact figure you want to screen for, rather than the standard preset values that so many other screeners come with. This helps you get a lot more precise results that help you in your decisions.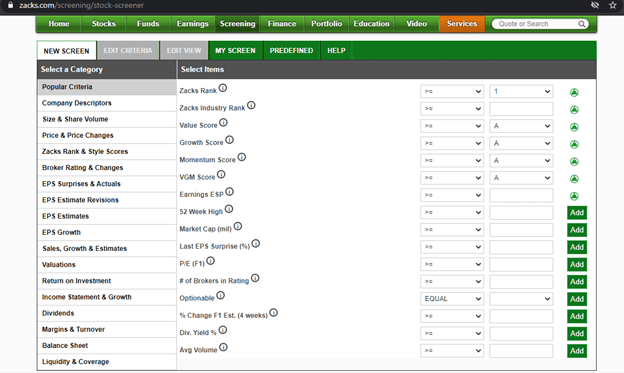 The Zacks Stock Screener is very functional and you can screen for stocks on a bunch of different metrics. Zacks EPS (earnings per share) criteria is better than most. You can access EPS surprise percentages, including the last one and the average one (last four quarters). You can also screen stocks on other metrics like valuation, dividends and liquidity. A cool feature here is the ability to export the results in an excel sheet so that you can analyze them further.
Zacks has a robust screening criterion for analyst ratings that include rating changes, upgrades and downgrades. But these come behind a paywall. The premium version also houses some of Zacks best screening criteria like filtering stocks based on formulae used by famous investors.
Zacks also has a lot of predetermined filters and screens that are behind the paywall. Premium accounts on Zacks start off at $249 annually and there are several upgrades you can opt for as well. However, Zacks is very good even without the premium service. Here's an interesting comparison of Zacks vs Motley Fool if you want to learn more about how these two popular services compare against each other.
4. Finviz Stock Screener
Finviz is one of the oldest names in the stock screening space. It is a powerful trading tool that is not too heavy on the wallet either. The drop-down menus on the Finviz Stock Screener are a thing of beauty, giving you access to various criteria that make you stock selection process very smooth.
The screener lets you input a lot of factors, and that helps you zero down on stocks based on different criteria like sector, industry, market cap, dividend yield, float shot, analyst recommendation and so on.  And all of these criteria are only in the descriptive section.
Further, you can also choose to shortlist stocks by opting for the fundamental or technical criteria. You can combine multiple sections as well, depending on your investing style. There is a total of 60 individual criteria which pretty much covers all the options that a beginner will look for.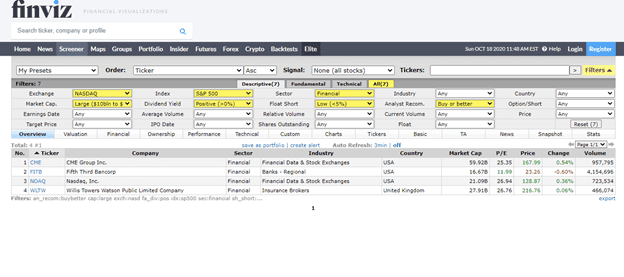 As you continue to build your search criteria, you can save your portfolio and create an alert. This saves traders a lot of hours that they would have spent recreating their portfolio or looking at manual charts.
Finviz also has an option called the heat map that is present on its homepage. This map tells you about the level of activity in the market on that particular day. If you are savvy, you can combine the heat map with the screener and create a very strong portfolio. This is a great screener for both traders and investors.
Day traders and momentum traders can use the screener to figure out 'hot' stocks and value investors can identify undervalued stocks by using the multiple criteria options available and trade based on the best volume indicator.
Finviz's free plan comes with a delay of around 5 minutes, and it doesn't contain intraday charts or screener presets. The Finviz Elite plan costs $39.5 a month or $299.5 for the whole year.
5. MarketWatch Stock Screener
Often, people are hesitant to start trading in the stock markets because the sheer amount of data overwhelms them. There are so many parameters and criteria to choose from, and that sometimes boggles the mind.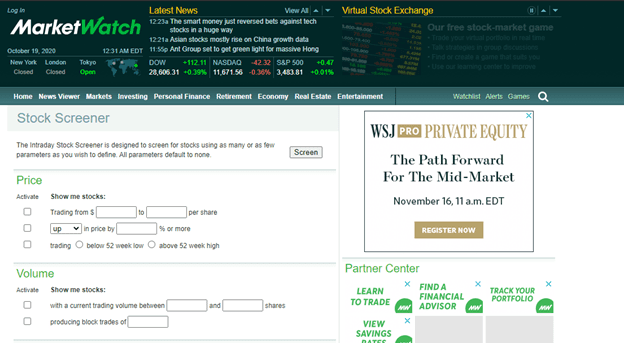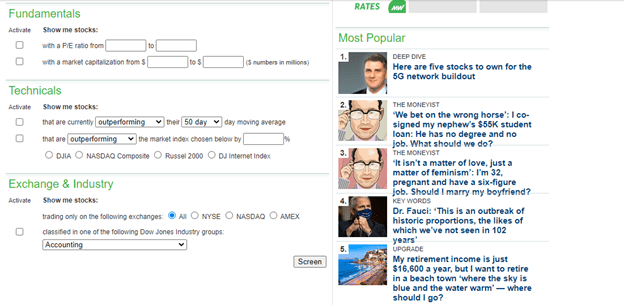 The MarketWatch Stock Screener is one of the best free stock screeners for people who are exploring the stock markets for the very first time. It's very basic and has five criteria through which you can screen for stocks: Price, Volume, Fundamentals (PE Ratio), Technical (50-day average), as well as exchange and industry.
Think of this free stock screener as a baby pool while you watch the big boys swim. Once you have got the hang of this and formulated a basic investing strategy of your own, you can graduate to screeners with multiple parameters.
6. MSN Money Stock Screener
MSN Money Stock Screener is one of the best-looking free stock screeners around. The interface is slick and reminds you of an e-commerce site. The screener has default filters on the right. It also has multiple filters so you can shortlist your stocks on different criteria like country, dividend yield, sector and analyst rating.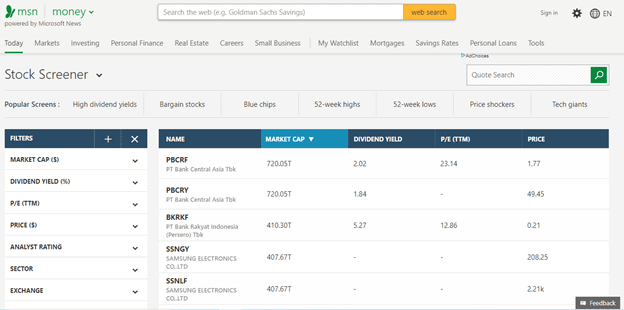 When you click on the '+' in the filters section, you get additional criteria as well: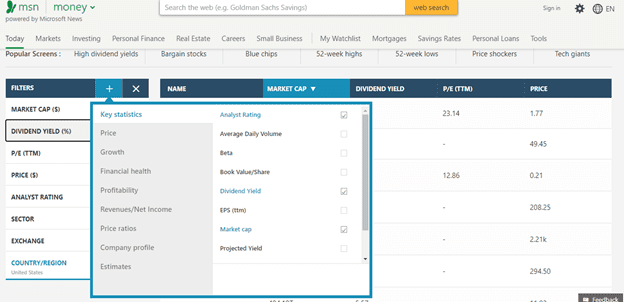 The MSN Money Stock Screener is great for beginners. It helps users adjust to the world of stock trading, especially if they want to look at fundamental data. It helps beginners build a strong understanding of the basics.
The screener lacks technical data and that is a challenge for traders who are so inclined. The screener gives you access to exchanges in 50 countries and that helps you track data across the globe.
7. Finscreener
The Finscreener Stock Screener is a great tool for the professional trader. It lets users screen for stocks using advanced criteria. You can start by defining criteria according to different factors like market capitalization, sector and industry. You can then narrow down your stock list by mapping it to factors like stock fundamentals, financial ratios, profitability, valuation, revenue, dividends, performance, volume etc.
You can then break down the results and analyze them further on stock performance, profit margins and rankings. If you are inclined towards technical trading, you can do that on the basis of the screener's daily timeframes too.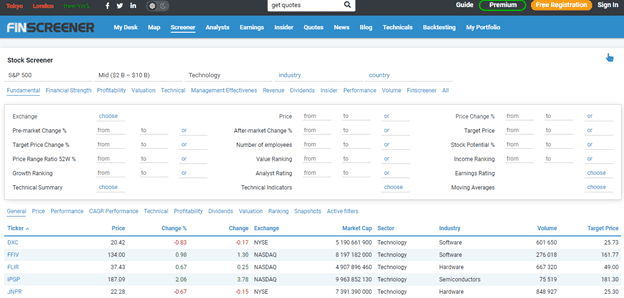 Advanced traders can use this screener to figure out stocks that meet very specific investment requirements. This also makes it a great tool for long term investors. It helps investors understand stocks that are good for the long term and helps you build a long term, diversified portfolio.
You can register with Finscreener to get started but the premium version of the tool has a lot of functions that are not available in the free version. Real time data, back-testing, correlations, multiple portfolio creation, advanced filters and charts, saving filters etc. are all part of the premium version. This costs you $14.99 a month or $139.99 for the year, both very reasonable rates, compared to the industry average.
You might even say Finscreener has the best dividend stock screener as well as the best fundamental stock screener for investors. Its relatively lower subscription plans make it among the best paid stock screener platforms right now.
8.  Trade Ideas
Day trading is tough and you have to be on top of your game, as even a slight error can cause you to book massive losses. If you are serious about day trading, you have to get serious about the stock screener you use.
When you start using the Trade Ideas Pro stock screener, you understand what it means to be a professional trader. It is powered by a high-end artificial intelligence machine that boosts your customization to a different level.
The tool lets you scan hundreds of criteria, and since this is a paid screener, it means data is all available in real time and the screener has pre-configured layouts that help you start off strong. As you get familiar with the tool, you can choose to customize your screens.
This stock screener has back-testing and automated trading features. Its scanners are customizable with around 800 filters and alerts. Trade Ideas has two paid versions: Standard that costs $1,068 a year and Premium that will push you back by $2,268 annually.
Apart from common factors like a live trading room, real-time streaming trade ideas, simultaneous charts, and a channel bar. Further, the Premium version offers additional features like virtual trading AI analyst Holly, chart-based AI trade assistance, entry and exit signals, and risk assessment.
Trade Ideas is arguably the best stock screener out there for day traders. It also might rank high when you look for the best stock screener software or the best stock screener app for traders. Make sure to look into the best day trading platform when it comes to executing your trades.
9. Stock Rover
Stock Rover is the perfect upgrade once you have understood the way screeners like Yahoo Stock Screener and MSN Money function. When you start using Stock Rover, you feel like you have just upped your game.
Stock Rover has a large selection of fundamental and financial scanning filters, and is known for its stock correlation analysis, and data evaluation. It has a well-developed scoring system that enables you to get the perfect set of stocks for your portfolio. Its dividend screeners are some of the best out there, and are particularly well-thought out.
It doesn't matter if you are a newbie to trading or come with solid years of experience, the Stock Rover Stock Screener is easy and intuitive to use. Beginners can choose from a bundle of pre-configured screeners while the pros can customize their screeners.
You can start off in the library of pre-made screeners and choose the ones that you want. They get added to your saved screeners list and you just have to click on a screen for results to load in the table. The screens run in real time, and so this is perfect for day traders.
Stock Rover has 10 years of detailed financial data history and more than 500 supported analysis metrics. Stock Rover provides many financial, operational, pricing and performance metrics.
This stock screener tool provides you with a detailed choice of financial metrics that can be used to filter companies including profit margins, efficiency ratios, stock price performance, dividends, Wall Street ratings, and many more.
The Stock Rover stock screener comes in three variants that include Essentials, Premium and Premium Plus. The Essential plan costs $7.99 a month or $79.99 per year. The Premium plan costs $17.99 a month or $179.99 a year while the Premium Plus costs $27.99 a month or $279.99 a year. Stock Rover also has multiple tools that can be accessed such as the Future Income Tool shown above which is available for its Premium and Premium Plus subscribers.
Other stock screeners
While this is a comprehensive list of stock screeners for investors, there are a ton of other stock screening platforms including Google Stock Screener and Fidelity Stock Screener.
You can use this article as a starting point for the type of screening platform you want, based on your needs, expertise and budget.
How Stock Screeners Work
Stock screeners play a very pivotal role in one's investing journey. It doesn't matter if you are a day trader or a long-term investor, screeners help you make informed decisions about stocks that you want to put your money into.
Stock screeners come with a variety of filters and search options to narrow down your choice from thousands of stocks to a select few. Good screeners have multiple metrics that when used, give you stocks that exactly meet your criteria.
For example: You may want to choose stocks based on the following criteria:
Market Capitalization
52 week high/lows
P/E ratio (price to earnings)
Debt to equity ratio
When you apply all/any these filters on a screener, you get stocks that fit the bill.
Now, you have a select pool of stocks to choose from.
The best stock screeners are easy to understand and provide value for the beginner trader as well as for the more experienced. A good stock screener is a key part of any stock research website.
Aside from stock screeners, there are also other guides that could help you minimize uncertainties in the stock trading world, such as reading financial courses, tools, and news.