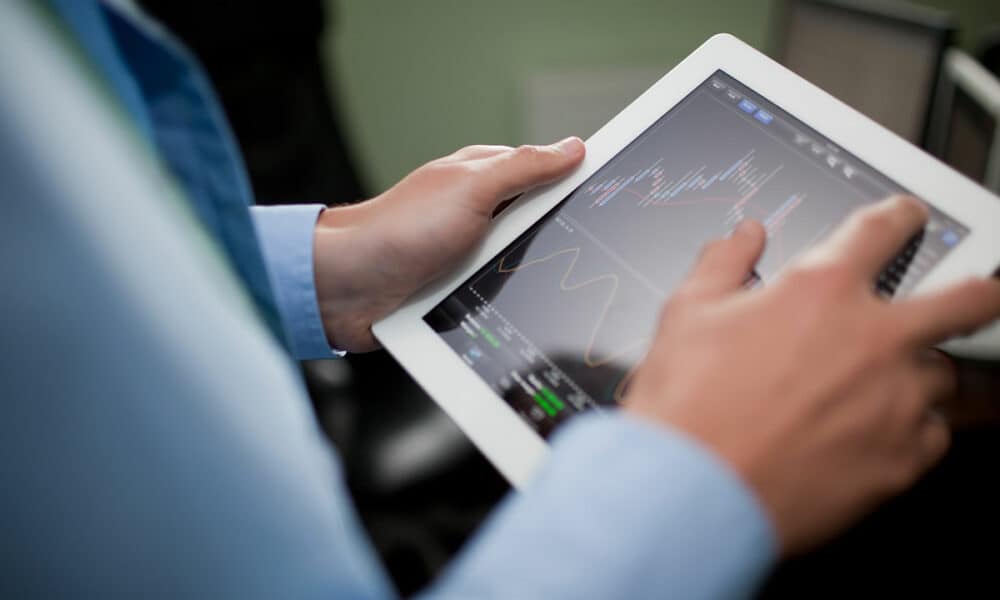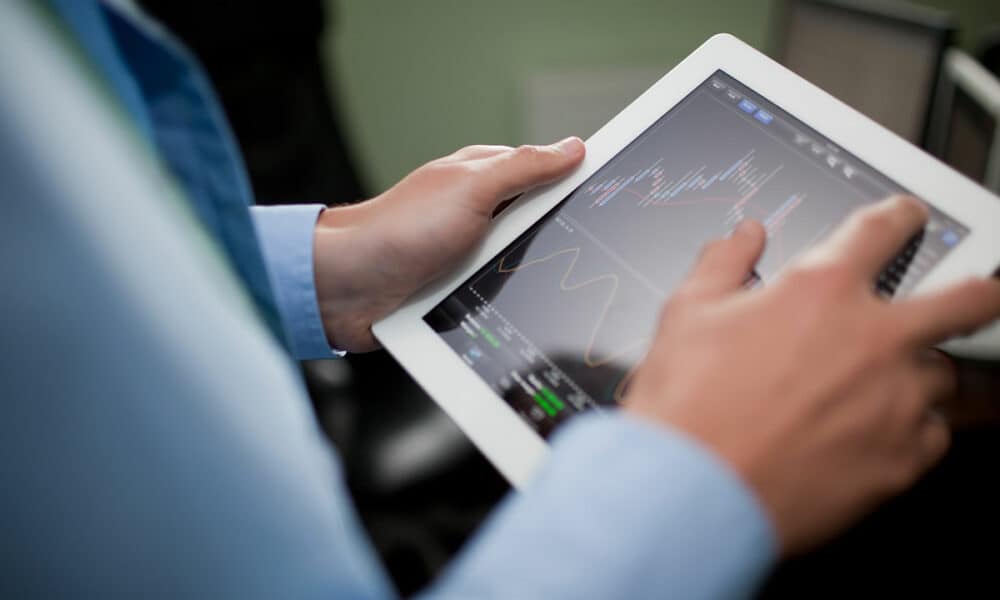 There are a few investment services available that have a claim to fame, and Zacks.com is one of them. Zacks was the first investment research company to discover that earnings projections have a massive impact on stock prices. They have since based their lists and recommendations on these projections. Zacks.com was also the first site to create a stock buy rankings list, which is a service that is a common practice on many investment sites.
Zacks has been an innovative stock screening and investing research resource for over 40 years. I am going to tell you what it has to offer its users and how its services stand out, as well as compare Zacks.com to my favorite investment platform, WallStreetZen. These two investment research services offer a lot to their users and provide a wealth of information that help investors build successful portfolios.
What Is Zacks.com?
Zacks Investment Research was founded in 1978 by equity analyst Len Zacks, as a company dedicated to putting together stock research and investment information to help educate their users about stock trends and predictions.
Their free site offers a portfolio tracker that will keep you informed about stocks to buy, hold, and sell. You can also keep track of your ETFs and mutual funds in the Zacks portfolio as well.
Zacks also offers free daily breaking news and daily emails that will brief you on updated Zacks Rank and Style Scores, Earnings Estimate Revisions, and Broker Recommendation Changes.
Zacks sends out a free e-newsletter each weekday morning called Profit From the Pros that highlights timely market news and commentary. There are also many free news articles available on the site, as well as Cryptocurrency news.
Users of the free version of Zacks.com can also see the top five stocks in the Top #1 movers of the day list, as well as Zacks' top five "Strong Buy" stock additions. Their Bull of the Day highlights a new Zacks Rank #1 (Strong Buy) stock every weekday. The Zacks.com homepage has a Bear of the Day section where they name the potentially worst performing stock of the day. Zacks Premium must be purchased to view these two lists in their entirety.
Zacks.com Rank #1 score uses four criteria to assess a stock's earnings potential:
Agreement – The extent to which brokerage analysts are unanimous in assessing the change in a stock's valuation
Upside – The difference between the estimated change, as calculated by Zacks, compared with the consensus estimate
Magnitude – The size of the latest change in analysts' consensus
Surprise – The occurrence of positive earnings surprises in the last few quarters
The Zacks.com free stock screener provides users with very informative statistics about each stock, as well as gives the Zacks Rank, Style Scores, and the Industry Rank on each stock's page.
The screener allows investors to sort and search for stocks according to desired metrics, such as price changes, dividends, or return on investment. The Zacks Stock Screener also allows investors to sort stocks according to their Zacks Rank and changes to their earnings per share.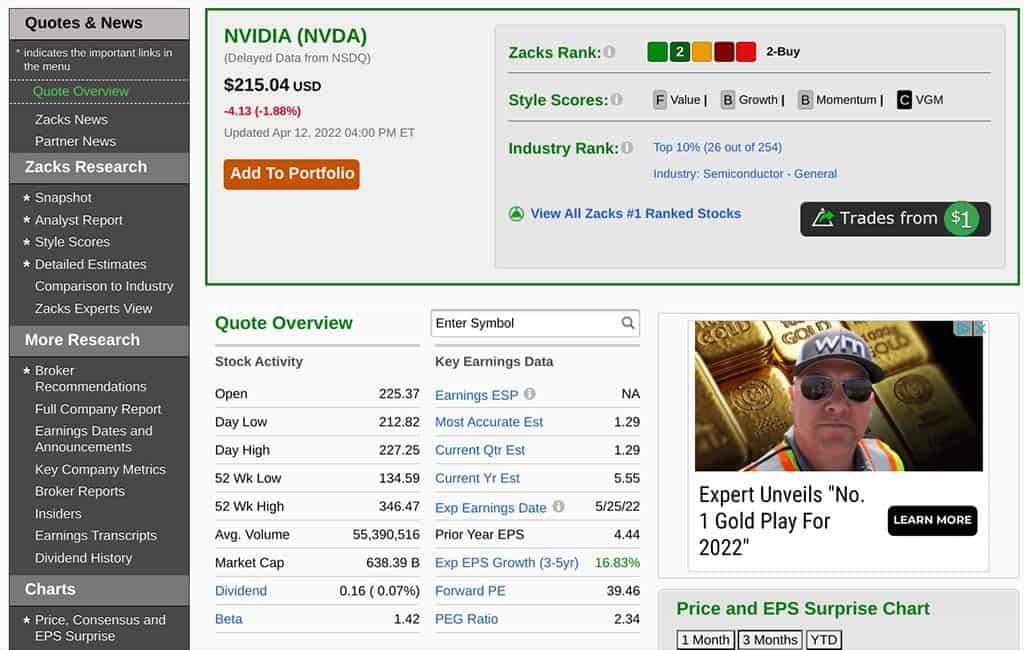 My personal favorite stock research tool, WallStreetZen offers similar free features as Zacks.com. WallStreetZen provides a daily newsletter, a portfolio tracker, watchlists, and a stock screener, and they also offer detailed stock information.
In addition to all of this, WallStreetZen provides their users with a stock's Zen score, which evaluates the company's financials, forecast, performance, and dividends. After all the details for these four criteria have been studied and calculated, a Zen score is given to each stock to signify how the company and its future prospects look financially. This score gives users a quick visual for establishing a stock's financial health and is an excellent stock predictor.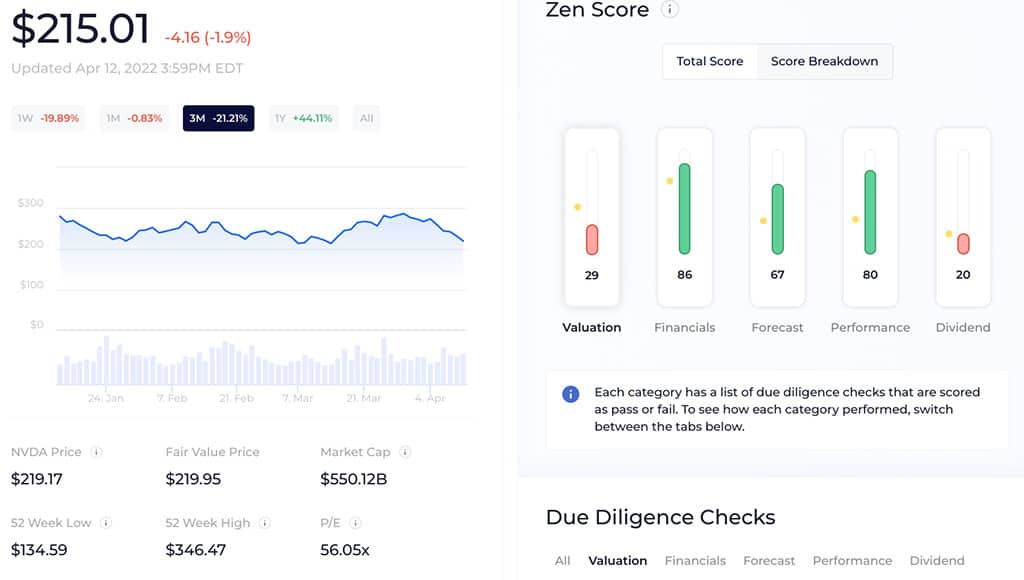 As I mentioned earlier, Zacks Investment Research is a real trailblazer in the industry, as they were the very first company to offer its users a stocks rating system. This innovation has greatly improved portfolio performances in an easy-to-use way and has since been adopted by many other stock screening services. Zack.com's stock grading system is focused on one metric: Earnings. For example with the ticker, ZNGA

Since a company's earnings numbers are announced quarterly, they greatly affect investor views of a stock and the stock's financial health. Brokerage analysts forecast what they expect a company's earnings will be on a quarterly basis and, based on these forecasts, analysts will label them either a Sell or a Buy.
Whether or not the company beats the earnings or under performs is the gauge on whether that company is a good investment at that time. This is why analysts have so much pull in the business— they use financial statements and trends to predict the successfulness of a stock.
Zacks reviews all of the earnings per share estimates made by analysts to provide financial data and analysis to assist their users with investment decisions. What does that mean? Zacks.com tracks all of the forecasted earnings predictions for each stock made by well-established brokerages and analysts and then assigns a ranking number to each stock based on these forecasts.
Zacks Investment Research reviews the earnings forecasts made by analysts and investment firms are the basis of Zacks' stock rating scale of 1-5, also referred to as Zacks Ranks. Number 1 means a stock is a strong buy, while a 5 means that the stock is likely overvalued and should either be held or sold. Zacks ranks stocks, ETFs, and mutual funds in this way.
The top Zacks features are listed below. The features with the triangle logo next to them require a Zacks Premium membership.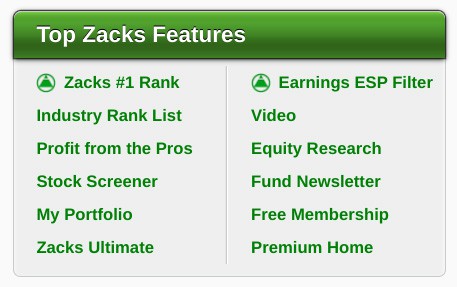 WallStreetZen also offers a stock picking "service" in the form of their suggested stock lists. These stock lists are created by compiling stock recommendations from top Wall Street analysts whose records consistently outperform the market.
WallStreetZen tracks all of their analysts' success rates to ensure they are only using projections from the analysts with the best records. By keeping track of analyst success rates, WallStreetZen can compile their lists with the confidence that they are using recommendations from analysts who have the best performance history.
Is Zacks.com Reliable?
You may be wondering, is Zacks.com reliable? I'd say yes. Over the last 33 years, stocks that have a Zacks #1 Rank have had an average return of 25.6% versus the SP500's 10.7%. The chart below shows the annual return on stocks based on this ranking system. The Strong Buy stocks on the right have done considerably better than all of the other groups on this chart.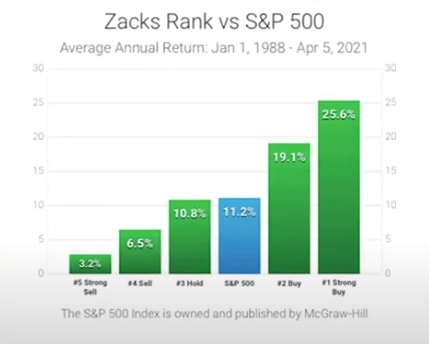 By using an overall prediction of a stock's earnings, Zacks.com gives its users a headstart on what the economic trend for a company might be. When a stocks' earnings estimates are revised upwards, institutional buyers will often enlarge their positions, which raises the stock's price. These large institutional buys usually lead to a price bump that an individual investor can profit from, so if an investor can get in early, they can profit.
What Is Zacks Premium?
Zacks Premium gives its users access to its private #1 Zacks Rank List made up of the top 5% of stocks with the most potential. A stock's potential is based on the stock's perceived value, potential growth and momentum. Zacks claims to have a list for every type of investor.
This private list is made up of Zacks Rank #1 (Strong Buy) stocks – the top 5% with the most potential. It has more than doubled the S&P 500 with an average gain of +25.0% per year from January 1, 1988, to February 28, 2022. So it's easy to understand why checking this list is a smart way to start each trading day. The number ratings system is super user-friendly and easy to follow. Each number has a different color assigned to it, so it's instantly clear where that stock stands in the rating system just at a glance.
Premium also gives users access to Zacks' Focus List which is a portfolio of 50 top long-term stocks picked by Zacks' Director of Research. The Focus List shows you the best long-term investments based on a company's earnings momentum.
Zacks provides its ESP (Expected Surprise Prediction) filter to Premium members. This filter allows users to search for the best earnings surprise stocks to buy. Since few events move a stock more than an earnings surprise, the Zacks ESP filter helps users identify which stocks to buy before a possible surprise earnings report, and which stocks to sell before a poor earnings report. This information is based on the Zacks Earnings ESP metric, which has proven accuracy over a 10-year statistics study.
Zacks Premium is available for $249 per year. This service is focused on providing research that gives its users a trading advantage. The best part of Zacks are their lists and rankings, so becoming a Zacks Premium member makes Zacks stand out from other stock screeners.
Zacks.com also has two other tiers of pricing: Zacks Investor Collection and Zacks Ultimate.
Zacks Investor Collection is a tier meant for long-term investors—it costs $59 per month or $495 per year. With this membership you will get Zacks Premium and Zack's impressive collection of stock recommendation lists: Zacks Top 10 Stocks, Zack's ETF Investor, their Stocks Under $10 list, Zacks Confidential, Value Investor, Income Investor, and finally, their Home Run Investor list.
Zacks Ultimate is the highest membership tier, at $299 per month or $2995 per year. This membership gives subscribers access to all of Zacks' portfolio and stock recommendations lists and includes everything available in the Investor Collection membership plus 14 additional, highly specialized stock recommendation lists:
Zacks' Balck Box Trader
Blockchain Innovators
Commodity Innovators
Counterstrike
Headline Trader
Healthcare Innovators
Technology Innovators
TAZR
Surprise Trader
Short Sell List
Options Trader
Marijuana Innovators
Large-Cap Trader
Insider Trader
Is Zacks Premium Worth It?
Yes, I think Zacks is worth it, considering that the stocks they rate as a #1 Strong Buy have beaten the SP500 by over 15% on average for the last 33 years. Their system of stock analysis clearly works. The information available in the Zacks Premium lists, filters and resources is impressive and makes a Premium membership well worth it.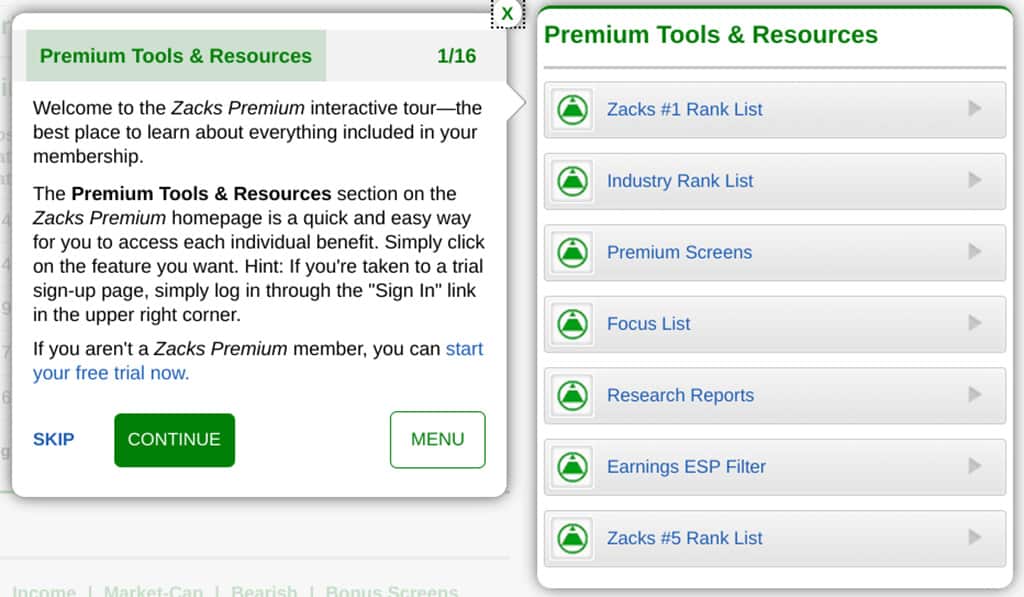 A Final Word On Zacks
Zacks.com offers investors an impressive collection of stock recommendation lists, and their aggregated analysts predictions grading system is a proven winner.
While Zacks.com is the originator of the stock grading system, I have found that WallStreetZen has created a template that is just as informative. Both sites offer their users similar features, with WallStreetZen costing $100 less per year.
I think both sites offer their users very valuable information and are worth it. 
Go here for another Zacks review or to compare Motley Fool vs Zacks vs Seeking Alpha vs Morningstar.