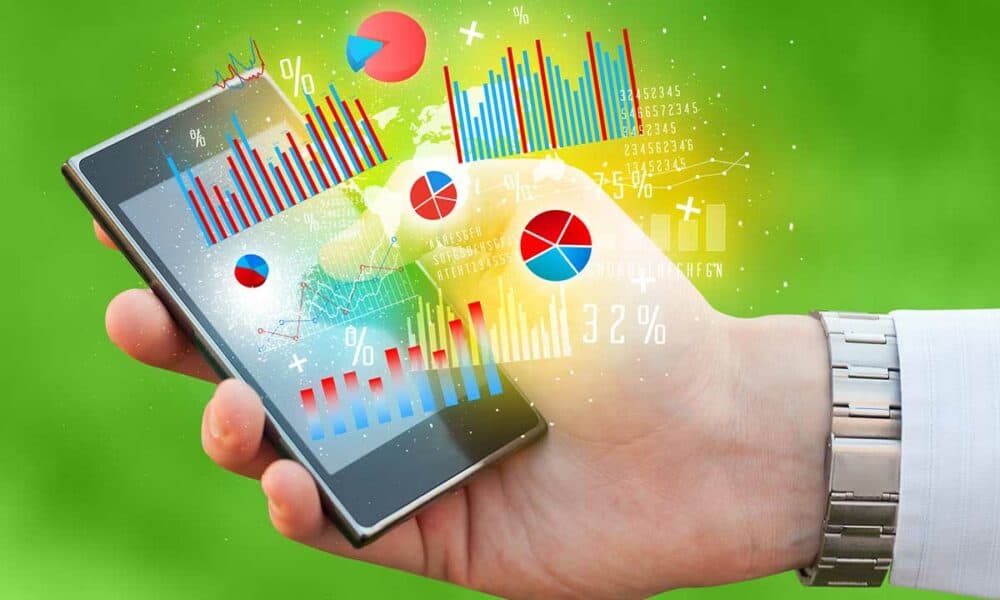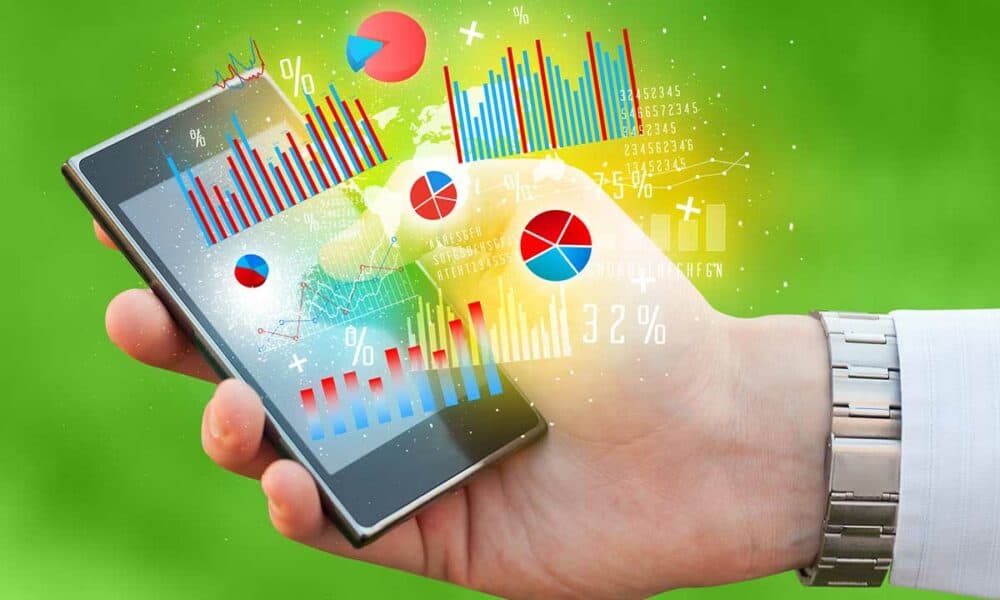 With all the sources of free and premium daily investment commentary out there, you may be wondering if Seeking Alpha is one to add to your list. While there are many pitfalls of wading through financial news (like shady sites that pump or manipulate stocks with hyped commentary or dubious analysis), this Seeking Alpha Review will have all your bases covered.
In this article, I'll review Seeking Alpha with attention paid to this popular investment site's Premium and Pro plans. So read on for a comprehensive but beginner-friendly and accessible guide.
And don't forget to check out InvestmentZen's partner website, WallStreetZen. I'll be using it for comparison when appropriate.
Seeking Alpha Review: At A Glance
Seeking Alpha is a community-generated stock market blogging platform started in 2004 by a former Wall Street analyst. The company that owns and operates the website and its online investor community is based in Israel and has some 170 employees.
Meanwhile, it crowdsources market research and article contributions to over 16,000 contributors. Many of them are knowledgeable financial and investment news junkies, but there's also a base of professional investors and industry experts the site draws contributions from. They publish like crazy, with more than 7,000 articles and earnings call transcripts posted to Seeking Alpha every month.
It's not just stocks that Seeking Alpha reviews on its thousands of crowdsourced blogs, with the best content promoted to its front page and to premium subscribers. The website also covers a number of other securities and asset classes, including exchange traded funds (ETFs), commodities, gold, and cryptocurrencies. Contributors also write broadly about investment strategies and global macro intelligence with a bearing on financial markets.
On visiting the homepage, you'll find a line graph at the top, adjustable to view the major stock market benchmarks: the Dow Jones Industrial Average, S&P 500, and NASDAQ Composite. The default US menu also includes a quick view on the historical and up-to-date performance of gold, crude oil, and bitcoin. There's a futures tab for these as well.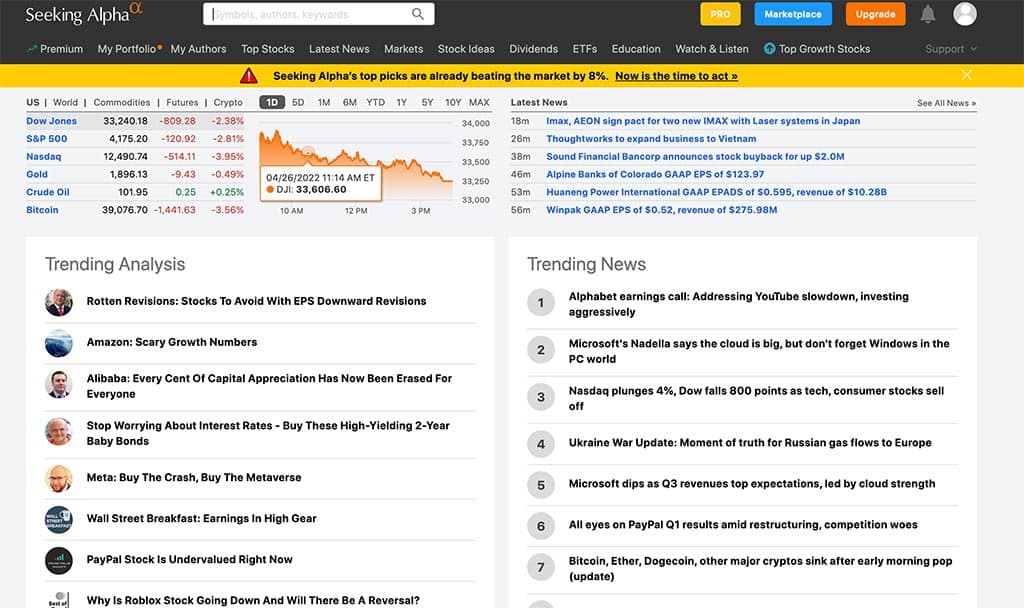 You can toggle instantly to see graphs on the World view for the FTSE 100 (the 100 companies on the London Stock Exchange with the highest market capitalization), the DAX (German blue chips), CAC 40 (France), Global Dow, Nikkei 225 (Tokyo), and Shanghai.
The commodities quick view displays prices for Brent (crude oil benchmark), natural gas, gasoline, corn, soybeans, and copper. The crypto quick view shows the charts for bitcoin (BTC), ether (ETC), Binance Coin (BNB), Litecoin (LTC), and Cardano (ADA). If you're looking for the best way to invest in these assets within an IRA, check out our iTrustCapital review.
In total, the website's contributors follow over 8,000 tickers with their investment articles.
While Seeking Alpha does have charts, if you're a serious trader that relies on charting, you'll want to try Trading View, or one of its competitors like Trendspider, ThinkorSwim, or Stock Charts.
Next to this quick view pane is a latest news box with links to recent Seeking Alpha reviews of current financial market news. Below these are links to the website's proprietary, on-site Trending Analysis and Trending News.
And below the trending news and analysis is a tool for registered users and even guests, enabling you to create your own portfolio that pulls articles for your own personalized news box for your investment portfolio. It's a nifty tool worth visiting the site to try out.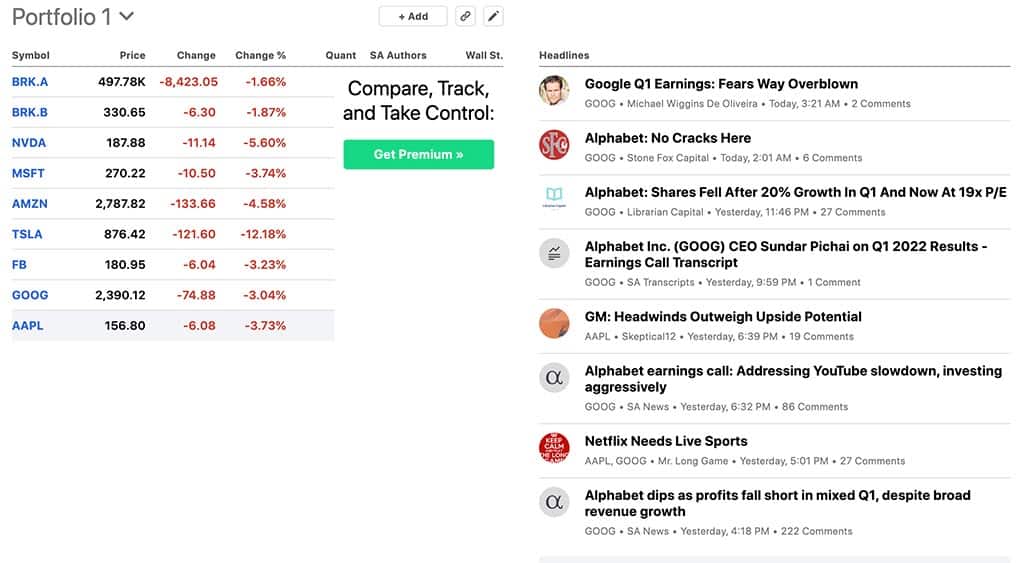 You can create multiple portfolios using this tool to get Seeking Alpha news tailored to each portfolio instantly, all in one place, without having to hunt around for the articles yourself.
The homepage also includes a column pane with links to editors' picks, notable calls and insights, and Seeking Alpha authors you follow. There's also a day watch pane with top gainers, top losers, headline makers, most actively traded tickers, FAANG stocks, and cryptocurrencies to watch for the day. (Note: WallStreetZen also a stock ideas section with today's biggest stock losers, stock gainers, hot penny stocks and more.)
Is Seeking Alpha Legit?
If you're just now getting a feel for the investment space as a part-time investor, you're smart to do your own research to verify the validity and trustworthiness of your stock investing and financial analysis sources.
Seeking Alpha is definitely a legitimate and professional source of stock market news (as well as news and analysis on other asset classes). It's also a widely used and trusted site for stock analysis tools and resources, in addition to its flagship product of community and professionally sourced articles about stock investments.
This very popular community-generated stock commentary site was founded in 2004 by David Jackson, who worked as an analyst on Wall Street before starting Seeking Alpha. By 2011, the site had distribution partnerships for its best articles with CNBC, Yahoo! Finance, MarketWatch, NASDAQ, TheStreet, and MSN Money.
In 2013, Wired Magazine dubbed Seeking Alpha one of the "core nutrients of a good data diet." The magazine's 101Signals feature also noted: "These stock market bloggers all have investments on the line—which makes them biased, to be sure, but also voraciously motivated consumers as well as avid sharers of breaking business news."
Is Seeking Alpha Reliable?
In short, yes, but to get the benefit of the site's reliability, you'll have to spend a lot of time pouring over the articles to balance out opposing viewpoints, and take any individual's stock picks or investment ideas with a pinch of salt.
In 2014, a group of researchers conducted a highly publicized study on Seeking Alpha to see how its crowdsourced stock picks matched up against professional Wall Street analysts' stock ratings.
The team of researchers from the Georgia Institute of Technology, Purdue University, and the City University of Hong Kong saw it as a perfect case study to test the "wisdom of the crowds" phenomenon, wherein enough opinions in aggregate have been found to combine the strengths of quality information and cancel out misinformed biases.
Their research led them to conclude in favor of the phenomenon because of the results they found. Analyzing around 100,000 Seeking Alpha contributions over a seven-year period, they found that the site's stock picking advice taken in aggregate accurately predicted future stock returns over every time frame studied, from one month to three years.
Furthermore, the site's community accurately predicted surprise earnings beats and misses, and overall made more accurate predictions than professional Wall Street analysts.
Is The Premium Content On Seeking Alpha Worth It?
If you plan to read more than the five-article monthly limit on Seeking Alpha before the paywall goes up, it's absolutely worth it to subscribe to the premium version to get unlimited articles and follow Alpha authors and their ratings and performance. Here's another helpful Seeking Alpha review if you want more details.
The website offers a free trial period so you can try Seeking Alpha Premium out risk free and see if it's worth it to you to stay subscribed for the monthly payment of $19.99 or $239.88 annually. You have 14 days after signing up to cancel anytime before the free trial ends, to avoid being charged if you decide it's not for you after giving it a go.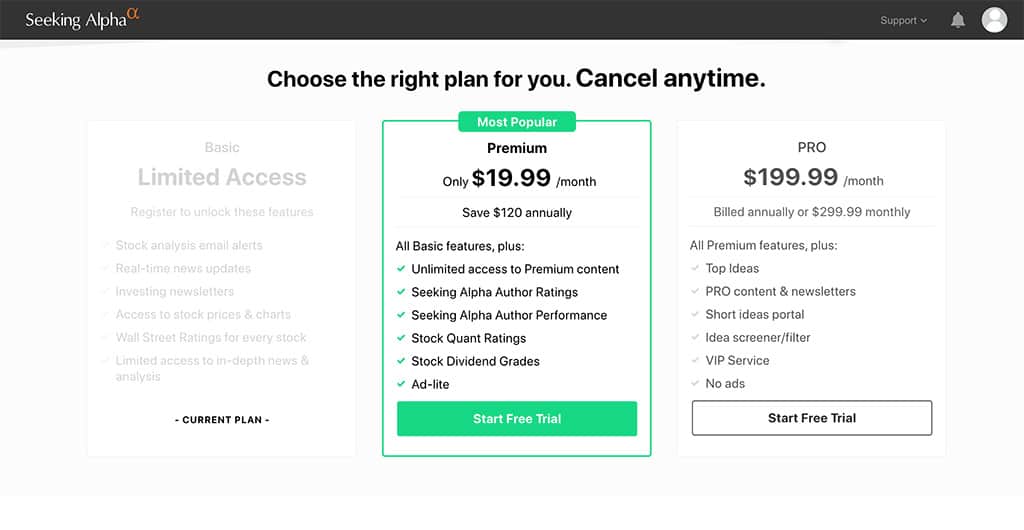 Seeking Alpha Premium gives subscribers all the basic features that guests have access to, plus unlimited access to all the Premium site content. Subscribers can view and browse all the community blogs' Author Ratings and Author Performance. You will get access to an ad-lite on-page experience, stock dividend grades if you're a dividend stock investor, and Stock Quant ratings.
From there, the Seeking Alpha PRO tier will take you above and beyond to the highest level of access and service from the platform's most reputable, trusted, experienced, successful, and popular advisors and community leaders. This tier is available for a monthly subscription of $199.99 if you pay for the year ahead in one payment. If you want to make monthly payments for PRO, the subscription costs $299.99 a month.
It's a much stouter payment than Premium but for a truly VIP experience. Seeking Alpha PRO subscribers gain access to exclusive material with top ideas, the PRO tier's flash content with hot news, information items, an analysis, and regular PRO exclusive newsletters.
They can also access Seeking Alpha's PRO short ideas portal and powerful idea screener/filter tool. They're catered to by the site's PRO community with VIP service. As an added nicety, all ads on the site are turned off when you log in.
Quant ratings, a proprietary Seeking Alpha feature added in 2019, provides an "overall rating for each stock based on objective data, optimized for predictive value. Seeking Alpha's Quant Ratings are generated by comparing over 100 metrics for each stock to other stocks, and ranking the stock accordingly."
If you invest enough in your portfolio, or day trade stocks, then it's likely you would make back Premium's small upfront fee with the wealth of information on this community investment analysis blog. If you are a very serious investor, a high networth individual, or want to invest in a serious part-time education on investing and day trading, PRO might be your speed.
But, if you are investing a smaller amount of your savings to begin with, or don't need or have time for this much analysis, WallStreetZen might be a better fit for your needs and budget.
WallStreetZen is designed with beginner, intermediate, and serious part-time or amateur investors in mind. But the site still offers powerful data-driven insight for the experienced investor with a large portfolio to protect and grow your wealth.
Simplicity and ease-of-use, with intuitive understanding of what you're seeing even if you're completely new to investing, greets the user on WallStreetZen's Zen Score tool. But you can dig deeper to see the insights and data that power a stock's Zen Score.
Here's an interesting article that compares WallStreetZen, alongside with Seeking Alpha vs Motley Fool, Zacks, and Morningstar.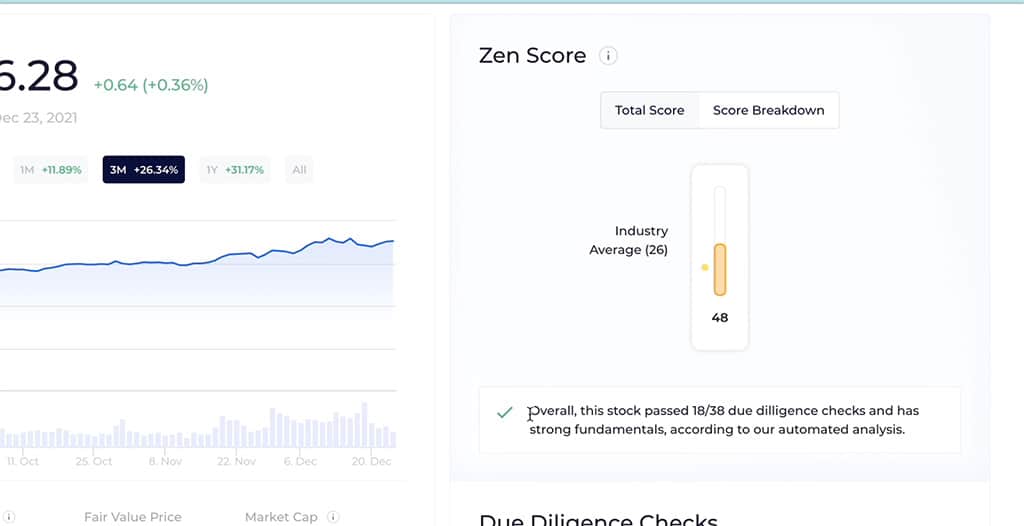 The Zen Score filters out the day-to-day headline news blips and investor class euphoria or FUD (fear, uncertainty, and doubt) that roils market froth up and down. Day traders love this roller coaster ride, and use technical analysis to read the shifting market winds to try to scoop short-term profits.
Zen Score is calculated using WallStreetZen's fundamental analysis algorithms, using data that measure the long-term health of the company's business fundamentals. Fundamental analysis projects a stock traded company's ability to generate future cash flows from its financial reports.
Then various metrics like P/E ratio (price to earnings) show whether the stock price matches the fundamentals, if the stock is overpriced (sell or hold), or if it is underpriced (buy).
While there are certainly value investors who employ fundamental analysis on Seeking Alpha, all of WallStreetZen's top analysts (check out some of their eye-popping returns) are laser focused on value investing.
So if you are looking to get long-term value stock recommendations to buy and hold, with short-term alerts of good entry opportunities for these picks, WallStreetZen might be more your speed. At just $150 a year for the Premium Plan, it's also more accessible to most investors. If you like you can try it for just $1 today!
The Seeking Alpha Marketplace
One of the most exciting and useful benefits site users find after upgrading to Seeking Alpha Premium with a free trial is access to Marketplace. The Marketplace on Seeking Alpha is a directory of services to a broad and varied range of top investors who write for the SA community. The individually priced Seeking Alpha Marketplace markets are led by hands-on, interactive investment mentors.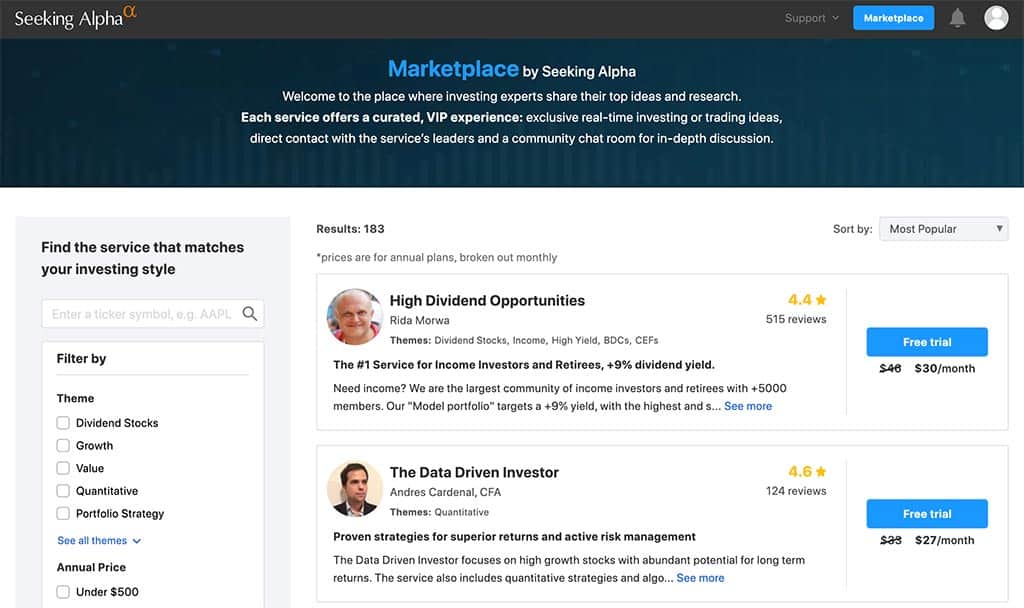 The diverse offering of some of the best, curated investment commentary and analysis online allows Seeking Alpha Premium subscribers to choose from among the many SA columns and expert services for a truly VIP experience tailored to the user's interests, investment strategy, and stock portfolio.
For instance, are you a retiree protecting and growing your nest egg? Or an income investor looking to generate enough income from your stock portfolio to retire early or right on time, or start a second business or pursue a dream hobby full time?
To give an example, one of the most popular marketplaces on Seeking Alpha at the moment is "High Dividend Opportunities," led by Ria Morwa. It's been reviewed 515 times as of this writing, with 4.4 out of 5 stars. It bills itself as "The #1 Service for Income Investors and Retirees, +9% dividend yield," with this marketplace description:
"Need income? We are the largest community of income investors and retirees with +5000 members. Our "Model portfolio" targets a +9% yield, with the highest and safest dividend stocks, preferred stocks and bonds. This service is ranked #1 in dividends, income & retirement. If you are looking for high sustainable income, you have come to the right place!"
Free trial users have access to the Marketplace's leaders, to communicate directly with them, and if you subscribe, you will get access for free to scour Seeking Alpha exclusive investment ideas and real-time trading information.
You will also gain insight into how some of the top investors on the platform invest with model portfolios and a live market trading room, where other premium subscribers discuss new stock tips, technical indicators, and long-term investing strategies.
According to Seeking Alpha, the Marketplace service's leaders are top experts on "dividend investing, aggressive growth, ETFs and portfolio management, technical analysis, options, IPOs, commodities, tech and biotech stocks." You get to choose among marketplaces based on your preferences when you start your free trial, and meet your investment mentor today.
Seeking Alpha Review: Reddit Sounds Off
When seeking solid information and advice about websites, tools, and services online, many savvy searchers skip Google and go straight to Reddit.
That's because, much like Seeking Alpha, Reddit is a community content site made up of professionals, many of whom specialize in technical trades like finance and the software industry.
These specialists are knowledgeable and down-to-earth, and they often tell it like it is. Because accounts on Reddit are anonymous, answers given there are also very candid insider views of subjects like investing. Additionally, the website allows users to upvote and downvote posts and comments, so ideally the best information rises to the top.
In fact, if you Google for "seeking alpha review," you will find that some of the related search queries that Google's results page recommends are "seeking alpha review reddit" and "is seeking alpha premium worth it reddit."
Knowing my way around the site (I've been a Reddit user since the great migration of Digg users to Reddit way back in 2010— ages ago in Internet time), here's a selection of the best information and advice I scoured from Reddit subforums about Seeking Alpha for you:
"At least for REITS and dividend stocks I think the quality of seeking alpha is much better than other online resources. If you visit the site often and keep up to date you can get by without paying." -Nov 2019 comment on /r/Investing

"I think its [sic] an excellent site provided that you 'follow' the right authors. You can generally get a quick and dirty understanding of a company's key issues/challenges by reading Seeking Alpha articles." -Aug 2013 comment on /r/Stocks

"Seeking Alpha is basically a blogging platform. Just like Forbes is now. The thing I like about it is that for any given stock, you can find both a positive and negative article about it. It's good to get both points of view." -Jun 2018 comment on /r/StockMarket
If you're a more straightforward investor looking to save time and money, and don't have the hours to devote to studying all of the pro and con commentary Seeking Alpha has to offer, you may want to head over to WallStreetZen.
While the vast amount of analysis from differing viewpoints on SA is useful for a sophisticated investor or day trader with lots of time to devote to researching stocks, WallStreetZen has a more focused offering of investment commentary for data-informed value investing. And at $150 a year, it's a better bargain than Seeking Alpha's most popular premium plan at $239.88 per year.
Is Seeking Alpha Premium Worth It? Reddit Says…
Posted On The /r/Investing Subreddit In June 2021:
"I have been toying with the idea of getting a premium news service for my investments, and SA SEEMS to be the least 'scammy' of them all. What do you guys think? Do any of you subscribe to their premium service? Is it worth it?"
Selected Answers
"I like it for DD on stocks I'm looking to invest in. Their data on the stocks is better than say yahoo finance."

"Love my SA subscription. If I see someone on twitter/reddit/etc recommending a stock, the first thing I do is to look it up on SA. Very often the info I find there stays my hand."

"I pay for it and find it worthwhile for a lot of my high level review to find a good bit of data in one place and see overall sentiment (independent analysts vs Wall street). I really like using some of their Quant screeners combined with my own screeners to identify opportunities. Has served me reasonably well to pick strong performers."
Posted On The /r/Stocks Subreddit In Nov 2021:
"Just curious if anybody has purchased for $239 premium subscription. Is it worth the investment? What other publications would be worth investing in? IBD online version? I've been a subscriber of Seeking Alpha for 10+ years but not the premium site."
Best Answer
"2 year subscriber. Definitely worth it for me. If you trade a $2000 account, probably not. If you invest tens or hundreds of thousands, it easily pays for itself. Most of the information is freely available and articles need to be taken with a grain of salt. The good is lots (a ton) of information that is easily accessible and curated for any stock. I research all the time. Financial statements, earning calls, etc but the market sentiment is priceless. You get a sense of what the market participants think, and you get some sage advice from both writers and commenters (good and bad)."
But not all the redditors' posts and comments about Seeking Alpha recommend the site or its premium version to other redditors.
The most common ambivalent comments about Seeking Alpha say the site has too many points of view for beginning investors to sort through, and that because the articles are community generated, they should all be taken with a grain of salt.
The most common straight up complaints about Seeking Alpha are that its commentary has become too politicized, especially in recent years, with political partisans flogging ideological points of view as investment commentary.
They say that can be a turn off as well as an unsound basis for investment. For focused, completely politics-free stock market analysis for the serious part time investor, you may prefer the top analyst recommendations and stock research tools at our partner site, WallStreetZen.
Seeking Alpha Review: Final Thoughts
Seeking Alpha is one of the deepest and widest sources of stock picking information online. With years of experience operating as a reliable source of stock market news and commentary, and thousands of contributors pooling their analysis, it's a veritable goldmine of info about stocks and other investment grade securities. If you have the time and interest to take in all that information and learn everything you can from it, a premium subscription so you can get caught up and stay apprised of where investor sentiment is at will be well worth your while.
If you are a serious but more casual part-time investor, looking to get the best support and education you can about value investing in stocks to protect and grow your savings, without spending as much time looking into every last nook and cranny of the financial markets, or as much out of pocket for a premium service, then WallStreetZen might be exactly what you're looking for instead.
Read more: Is Seeking Alpha Premium Worth It in 2023?